The way you design your home expresses elements of your personality and provides a chance to demonstrate your ingenuity. You may create a calm space with basic colour palettes, a snug and charming house with warm colours, or a part with vivid and appealing furniture with strong designs.
From deciding on colours to placing decorative pillows on the couch, you can create a setting that will encourage you and your family members to flourish and leave a lasting impression.
Apart from affording us the chance to express ourselves, home decor can have concrete effects on us. For instance, a person who worked in an atmosphere with a pleasant aroma reported higher degrees of assurance when establishing ambitious goals. On the other hand, people in an odourless environment were more likely to use productive techniques.
When sprucing up a home, selecting the ideal furniture is likely the most critical decision to make out of all the possible decorating items.
Bedroom Furniture
When it comes to interior design, the bedroom is the most versatile space in the home. It can be tailored to suit any individual's unique tastes and preferences. Your bedroom should be a comforting sanctuary, and the ideal decor elements will help you get a peaceful sleep.
It doesn't matter what type of interior design style you prefer – classic, contemporary, rural or mixed – from an attractive headboard to an attractive accent wall or pleasant paint hue, your bedroom can be converted into an ideal sanctuary.
It's important to think about essential components when starting bedroom decors, such as wooden and upholstered beds, bedside tables, mirrors, and chest drawers.
There's no need to worry about spending a lot of money or dedicating a lot of time to making your bedroom look stylish. With Spideroo, you can make it fun while still getting quality furniture pieces to give your room a cosy, tranquil atmosphere.
1) 1 Drawer Bedside Table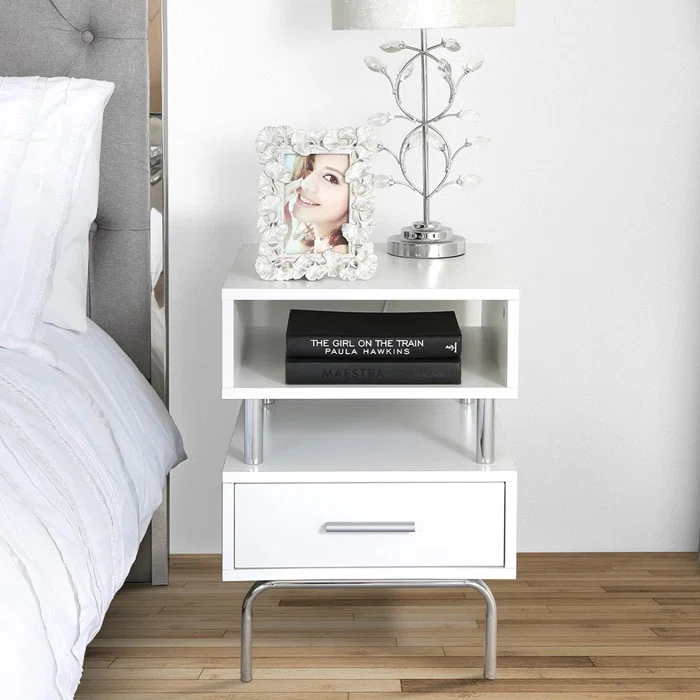 Product Details
This 1 Drawer Bedside Table is the perfect choice for any room! With its compact design and plenty of storage space, you'll never have to worry about not having enough room for your items. The open storage space and shelf provide the perfect spot for keeping your belongings organized and within reach.
This bedside table is versatile enough to serve as a side storage unit in the living room or to be placed beside your bed as a nightstand, fulfilling all of your requirements. Get it today and make your home more stylish and organized.
Features:
Material of superior quality MDF. 
Assembly is required. 
You can Provide your space with a luxurious aesthetic by using this item in either your bedroom or living room.
Weights and Dimensions: 
Overall: 54cm X 40cm X 40cm 
Overall Product Weight: 11.6kg
2) 4 Piece Wardrobe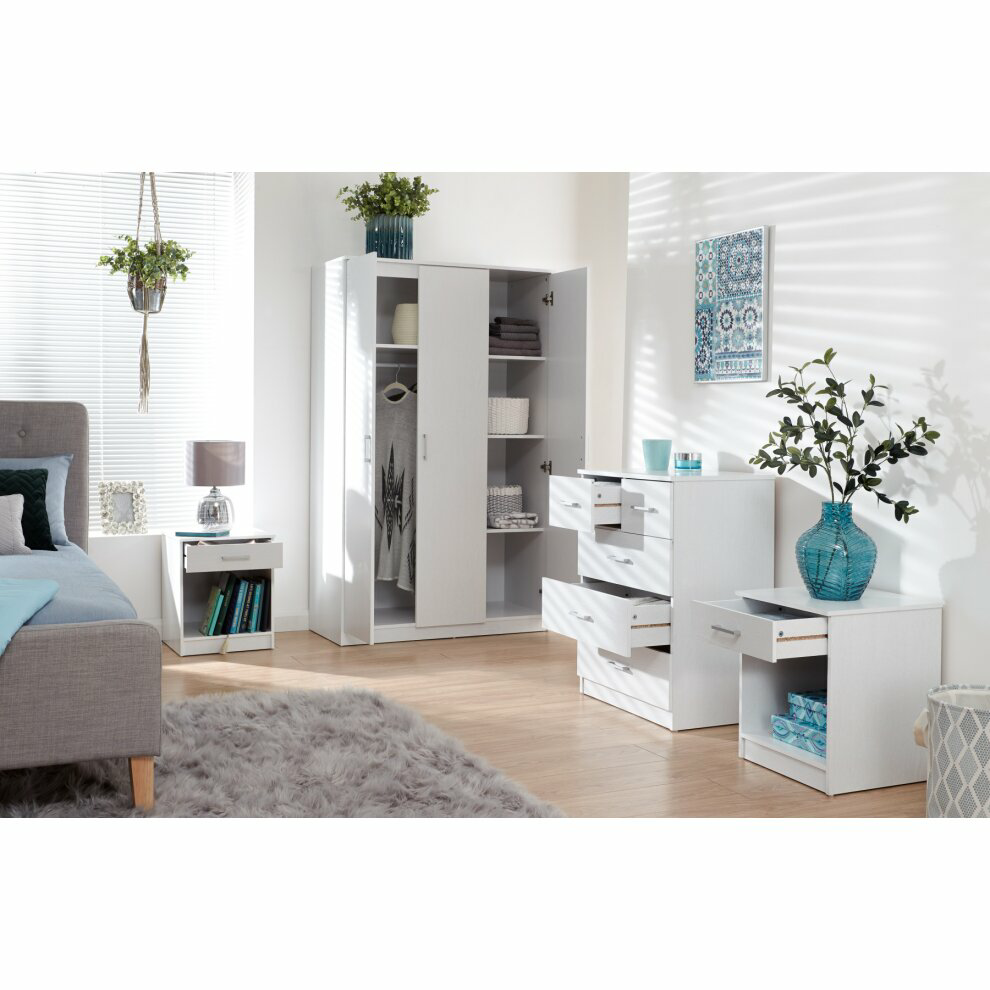 Product Details:
4 Piece Wardrobe is a luxurious bedroom furniture set to complete your home. This amazing set includes a three-door wardrobe, a five-drawer chest and two one-drawer nightstands.
This set is available in four beautiful finishes and crafted with quality materials – White, Oak, Espresso Brown and Walnut – to perfectly match any décor. And with its plastic drawer runners and handles, opening and closing the drawers is smooth and effortless. Get your 4 Piece Wardrobe today and enhance the look and feel of your bedroom to the next level.
Features:
This furniture set is available in white colour 
Crafted out of high-quality MDF. 
The furniture set includes four pieces. 
Weights and Dimensions: 
Wardrobe: (H) 165cm X (D) 47cm X (W) 101cm
Chest: (H)79.4cm X (D) 40cm X (W) 60cm
Bedside: (H) 48cm X (D) 39cm X (W) 40cm
3) LED Hollywood mirror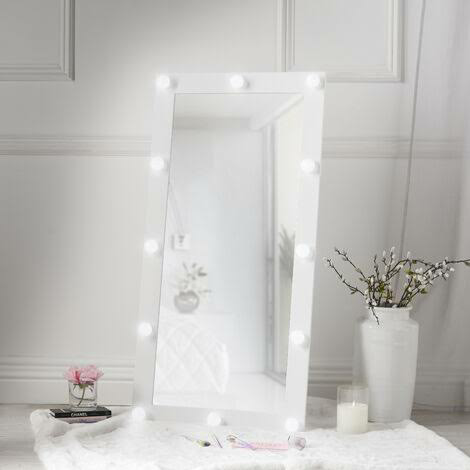 Product Details:
Glam up any room in your home with the Saskia LED Hollywood mirror. This stunning mirror is the perfect addition to any dressing room or bedroom. It comes with 12 Hollywood LED bulbs that provide the perfect lighting for taking pictures or getting ready for a night out.
These bulbs allow you to adjust the brightness, allowing you to customize the lighting for your desired effect, and they are powered by a plug and are long-lasting, making this makeup mirror perfect for everyday use. Beauty up your home with the Saskia LED Hollywood mirror!
Features: 
It is possible to install it in either a vertical or horizontal orientation.
A low-voltage adaptor can be used as a power source for illumination.
12 Hollywood LED lights
Weights and dimensions: 
Overall Dimensions (cm): (W) 60 x (H) 120
Cabinet Size (cm): (W) 60 x (H) 120
Mirror Size (cm): (W) 46 x (H) 105.5
Overall Weight (kg): 10.4
4) 3-Drawer Bedside Cabinet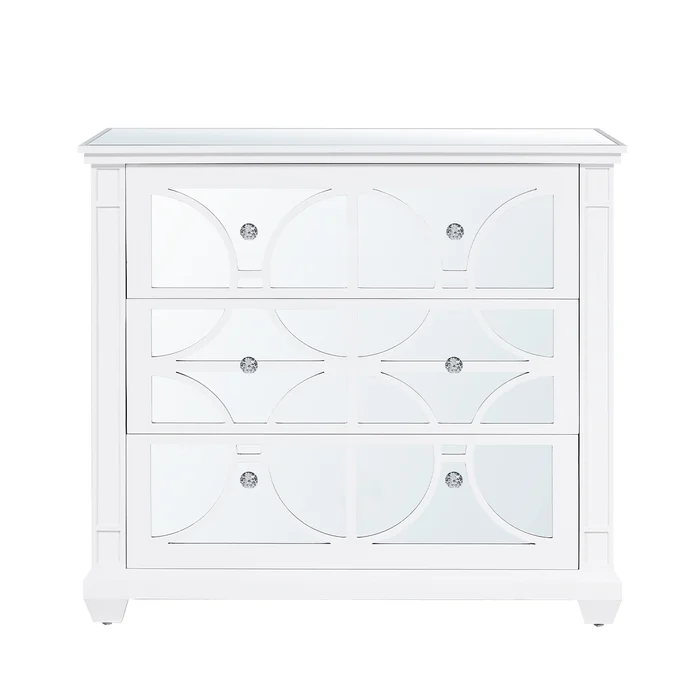 Product Details:
The 3-Drawer Bedside Cabinet. This stylish piece of furniture will spruce up your living room or bedroom in an instant. It's the perfect way to add extra storage space and a touch of glam to any room in the home.
The three drawers offer plenty of roomy storage, while the clear crystal-style handles complete the look. Add this 3-Drawer Bedside Cabinet to your home to instantly add style and organization!
Features: 
The top is mirrored. 
With its elegant look, it can serve as a great piece for your bedroom. 
This white-coloured furniture is crafted from wood. 
Drawer slides that incorporate ball bearings for smooth movement.
Weights and Dimensions: 
Overall: 88cm X 97cm X 40cm 
Main Drawer Interior: 24cm X 80cm X 32cm 
Overall Product Weight: 31kg
5) Kantor Upholstered Bed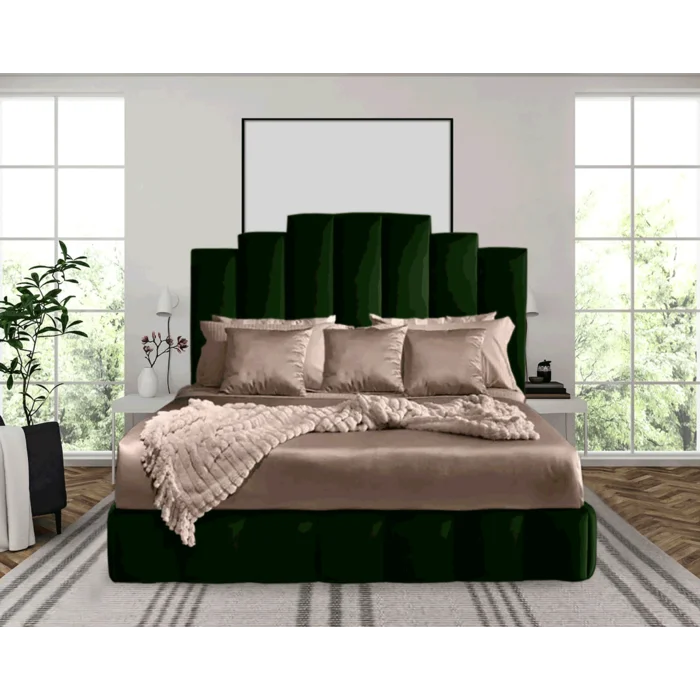 Product details:
The Kantor Upholstered Bed is an exceptional piece of craftsmanship that exudes nothing less than luxurious royalty. Its headboard features a sleek vertical panel design with a smooth slope, adding extra dimension to the frame. The side rails flow seamlessly into the base level footboard, which is adorned with a vertical 7-panel design.
This bed is sure to be the showstopper of any master bedroom or guest room. It is perfect for treating your guests to a majestic night's sleep. With its artistic craftsmanship and luxurious design, the Kantor Upholstered Bed will be sure to give any space a touch of class and sophistication.
Features
The frame's upholstery is filled with high-quality foam, which provides a luxuriously soft feel and maximum comfort.
Upholstery is crafted from velvet. 
Available in numerous mattress sizes: 
Size
Mattress Size: Super King (6')
Mattress Size: Kingsize (5')
Mattress Size: Single (3')
Mattress Size: Double (4'6)
Mattress Size: Small Double (4')
Weights and Dimensions
Overall: 101cm W X 206cm L
Overall Product Weight: 60kg
6) Upholstered Bedside Stool
Product details:
Put the finishing touch to your bedroom with this stunning Upholstered Bedside Stool. This luxurious velvet tufted stool will elevate the level of style in your home. It features a deeply padded seat tufted with buttons, finished in a soft fabric that is sure to make a statement. Perfect for propping your feet up after a long day or adding a touch of style to any room. Add this beautiful piece of furniture to your home, and you won't regret it.
Features: 
The frame is manufactured from MDF, while the upholstery material is polyester bend. 
Fire resistant.
It can be easily cleaned with a white cloth. 
Weights and Dimensions: 
Overall: 45cm X 45cm X 45cm 
Seat: 45cm H
Overall Product Weight: 6.5kg
7) Kids' Bedroom Furniture
Product details:
Looking for the perfect addition to your child's bedroom or nursery? Look no further than our brand new Bailey Kids Bedroom Furniture Trio! This three-piece bedroom set has been designed with particle board for added durability and comes in a modern oak effect with blue doors.
Choose your preferred colour from the given options, and both have been finished with unique wooden handles. It's the perfect way to spruce up your little one's bedroom in no time! The Bailey Kids Bedroom Furniture Trio includes a 2 door wardrobe/cupboard, a chest of drawers and a bedside table – all for an incredibly affordable price. Make your child's room look amazing with this amazing bedroom set!
Features: 
A Wardrobe with the Appearance of Oak Wood and Blue Colored Doors.
This collection of furniture includes a closet, a dresser and a bedside stand.
Weights and dimensions:
Wardrobe: 83.1cm X 49.5cm X180cm
Chest of Drawers: 64.3cm X 39.5cm X 93.5cm
Bedside:39.5cm X 39.5cm X 44.5cm
8) Upholstered Bedside Bench
Product Details:
If you want to give your bedroom an elegant and cosy atmosphere, then the Upholstered Bedside Bench is the perfect choice for you. This contemporary bench is made with engineered wood and comes with solid wood legs that offer outstanding sturdiness and balance.
The bench is upholstered with luxurious velvet fabric and is designed with a tufted seat to provide the best seating experience. With its chic and modern look, the bench is sure to bring sophistication to your bedroom while providing a comfortable seat for putting on shoes or just relaxing.
Features:
This bedside bench has a frame made of MDF, and its covering material is 100% polyester.
Easy to clean with a dry cloth.
No assembly is required.
Weights and Dimensions:
Overall: 38cm X 102cm X 40cm 
Overall Product Weight: 6.5kg
Seat Height – Floor to Seat: 259.1cm H
9) Como Ottoman Bed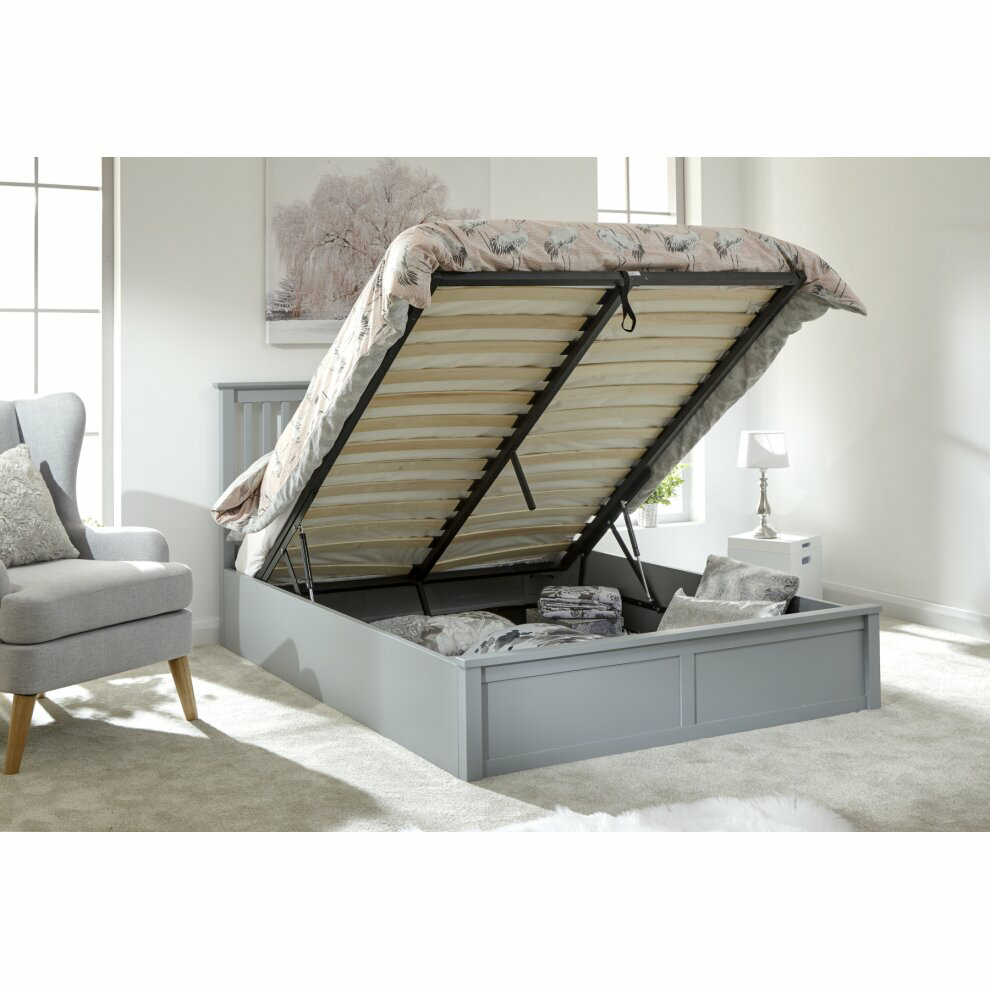 Product Details:
Give your bedroom an extra bit of New England flair with the beautiful Como ottoman bed. It has a traditional look with the potential to customize with pillows and blankets. The panelled base and curved headboard are available in white or dove grey.
Which will match most decorations to make a tranquil atmosphere for a good night's rest. The mattress base can be raised to reveal a large storage area ideal for extra bedding and items you only use once in a while.
Features: 
This bed, which is extra large in size, comes in a shade of grey.
This product is made using rubberwood as its main component.
Storage compartments that are incorporated into the bed frame.
Weights and Dimensions:
Overall Dimensions: 212cm X 165cm X 101cm
£399.99 At Direct GB Home and Garden

10) Makeup Mirror
Product Details:
Our crumple makeup mirror is sure to give your room a dash of Hollywood glamour. It is crafted from mirrored glass and MDF and has 6 LED bulbs installed around the frame. This designer piece has brackets that allow you to hang it on the wall and comes with light bulbs too.
The six lamp holders on the edge will brighten up your whole face regardless of the level of darkness in the area. The modern silver finish of this wall light is easy to clean and will look great in any contemporary living space.
Features:
This sizable mirror includes holes that have already been bored out. If you install a collection of vanity lights into the pre-drilled holes, you can fashion a mirror that emits light without any visible cords, but at a much lower price.
The hardware provided, along with a screwdriver and straightforward directions, makes it effortless to put together with no need for any wiring. The setup process takes just a few minutes.
The silicon covers on our vanity lights make them compatible with the majority of other types of mirror lighting fixtures.
Weights and Dimensions:
Overall: 70cm X 50cm X 17cm 
Overall Product Weight: 10.70kg
11) Dressing Table Stool 
Product Details:
Get fashionable storage for your belongings with this ottoman. Perfect for use as a stool to sit on while doing makeup. It features an elegant metal base with a comfortable fabric cushion, and a removable lid lets you access the internal storage compartment.
Features:
The frame is constructed out of high-quality medium-density fibreboard.
This dressing table that is a perfect fit for your bedroom, dressing room and living room is available in pink, blue and green colour. 
Easy to clean with a dry cloth. 
Weights and Dimensions:
Overall: 41cm X 37.5cm W X 37.5cm 
Storage Space: 22 cm X 32.5cm X 32.5cm
Overall Product Weight: 3.9kg
12) 4 Piece Bedroom Wooden Furniture Sets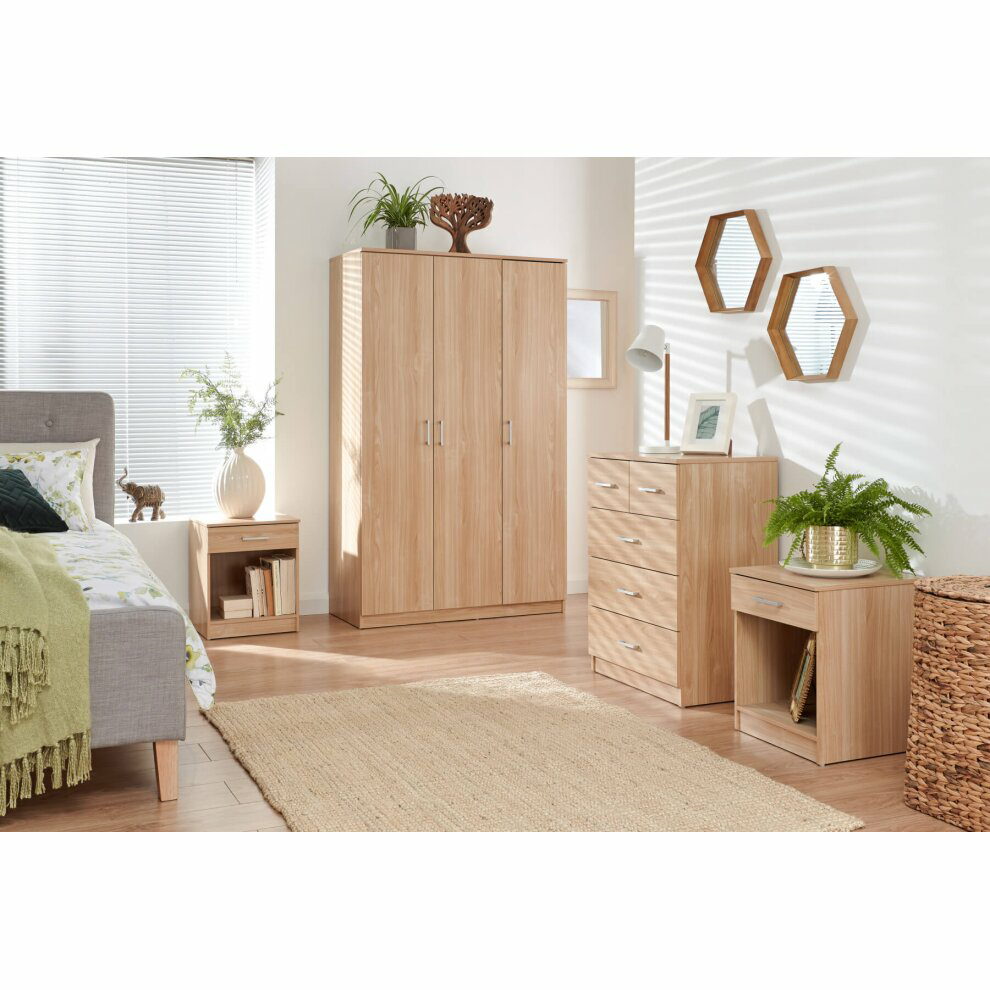 Product Detail: 
This 4-piece bedroom furniture set is priced well and comes with a three-door wardrobe, a five-drawer chest, and two single-drawer nightstands. It features plastic drawer runners and handles, and it is available in White, Oak, Espresso Brown, and Walnut finishes to complement a range of home decor.
Features:
Manufactured by MDF. 
This 4 Piece of furniture set includes a wardrobe, chest of drawers, and bedside table, which adds a contemporary look to your living space. 
Its oak colour gives your room a traditional look. 
Weights and Dimensions: 
Wardrobe: 165cm X 47cm X 101cm
Chest: 79.4cm X 40cm X 60cm
Bedside: 48cm X 39cm X 40cm
13) TV Table for Bedroom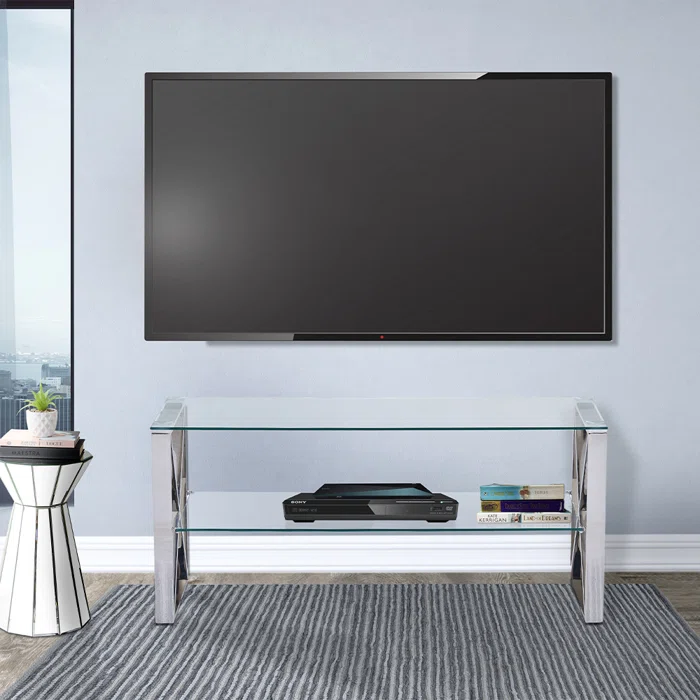 Product Details: 
Our TV stands and entertainment units are extremely popular. This modern glass television stand is made from tempered safety glass, which offers plenty of room for both your TV and audio-visual equipment. Its stylish but practical design makes it perfect for any home, whether it's against a wall or in a corner. The legs are made of polished stainless steel with a shiny silver chrome colour and can be simply wiped down with a moist cloth.
Features: 
This piece of furniture features a black/clear tempered glass top and stainless steel legs in a crisscross design, with a contemporary look and an additional shelf to hold DVD players, game consoles and speakers.
This television stand features 8mm thick glass for the top, accompanied by durable and stylish stainless steel chrome/gold legs.
This television stand is simple to assemble – just consult the instructions manual and adhere to the directions.
Weights and Dimensions: 
Overall: 60cm X 120cm X 40cm 
Shelf: 120cm X 40cm 
Overall Product Weight: 8.4kg
14) Silver Mirrored Dressing Table
Product Details: 
Create the ultimate focal point in your bedroom with the Monroe Silver Mirrored Dressing Table. This fabulous dresser is a statement piece that is sure to capture attention and add a touch of glamour to your space. With its bevelled mirrored edging and stunning crystal handles, it reflects the decadence of the iconic Monroe range.
Featuring seven spacious drawers, you will have plenty of room to store all of your clothing, makeup and accessories. Add a touch of Hollywood-style glamour to your bedroom with the MONROE SILVER MIRRORED Dressing Table.
Features:
The glass has been cut in a way that its edges are angled, and it reflects light.
This chest provides ample space with its seven drawers, making it great for storing items.
This dressing table, with its glamorous look and two years warranty, is an excellent piece to embellish your bedroom. 
Weights and Dimensions: 
Overall: 120cm X 45cm X 80cm