Choosing art for your home is often neglected because of the focus on room furniture. However, the walls must not be overlooked. It may be painted several times throughout its life, but the main focus is typically on room furniture. To increase aesthetic appeal, your home instantly acquires if you choose wall décor. It may modify the architectural style of your home in a wonderful way. So, here we'll discuss why wall décor is required and how wonderful it can change the appearance of your entire house. Continue reading and you'll find out everything!
Wall Decors
There is a wide variety of hanging decorations that are referred to as wall decorations. The most suitable one for your home is based on its theme, color scheme, and unique design. You can choose from a variety of wall art options, including canvas prints, art prints, metal prints, wood prints, acrylic prints, calendars, photographs, and clocks.
Wall art is the finishing touch that elevates your place from utilitarian to extraordinary. It completes any room and helps it blend together. It also adds the finishing touch that elevates your place from utilitarian to extraordinary.
A smartly chosen wall piece can add depth to your work environment in addition to textures. You don't have to stick to paintings; an impressive sculptural accent or shadow box can also add depth to a room.
Every location needs a focal point. It may be an attractive feature that draws the attention of any person in that location, providing them with a notion of what to expect. Wall décor that is inspiring is excellent for achieving this objective.
The colors and tones provided by a great piece of artwork serve as the foundation for the colors and tones used throughout the space's design.
Here are some of the top picks when it comes to wall decoration:
Paintings
A variety of forms can be used to adorn walls, usually showing the owner's preference. It may be a contemporary abstract piece, a classic Mughal painting on silk, or any other choice. India is especially abundant in artwork selections, with every region having its own unique style, pattern, and color.
Art Of Wooden Wall
People often try to incorporate elements of the natural world into their interior design, and a piece of wood can be a great way to do this. Tree trunks have been used as the foundation for coffee tables or lampshades, and even a log or branch can be placed in a way that adds a rustic atmosphere to the home. There are numerous options for bringing Nature indoors, and if you feel creative, you can even carve your own piece.
Photographs
Wall hangings have been utilised for millennia. Today, the frame and appearance are likely to be altered. People are becoming bolder in their choices and are covering a greater area with photographs of their children or themselves. Instead of framing pictures, you can now see people covering an entire wall with a picture of their child or even themselves.
Wall Clocks
Even though the wall clocks are now being eradicated from our homes, I have yet to find one where they are not. Wall clocks still have something special and those who will not let go of them are still around.
Murals
Murals have always been reserved for religious and royal buildings, and then people started using them in everyday residences. There are those who recognise the significance of this decoration and those who don't. However, most of us may apply wall décor in less obvious and subtle ways than this.
Metal Wall Art
Metal art is becoming more and more popular. There are now numerous metal art items available in most shops in India. The most popular are long, thin figures and masks. It appears that the majority of sales are now being made in the field of geometric shapes rather than figurines and busts.
Importance of a Well-constructed Wall
 Adds a contemporary look  
Classic and contemporary art may enhance the authenticity and beauty of your space, contributing significantly to your complete home's aesthetics by imparting a new look to it. It can contribute to your home's aesthetics by adding a new look. Wall art can be found in various forms, sizes, and styles.
Transforms your Living Area
You can transform your living area into something distinctive and vibrant by using the appropriate wall decor products. You can find some amazing pieces of art via an online search for home decor.
Matches the Color Palette of your place
Wall art has become an important part of interior design, as it may help match the color palette of your home. The color palette of your home, the appropriate décor, and decorative objects, in addition to the mood that you want to create, may be assessed and identified by wall art. To remove all of the room's neutral colors, use wall art that matches the overall plan of the room.
Turns your inexpensive room 
A color-splashed wall can transform an inexpensive room into a sophisticated one by giving it colour. By painting wall art in such a manner that it resembles a living exhibition or museum, a person might transform a lavishly furnished home into one that attracts the attention of others. It might be challenging to enter such a dwelling and see what makes it so extraordinary.
Addition of Texture
Adding texture to a wall is critical for enhancing the impact of a room's interiors, elevating the home's appeal. Texture adds intimacy and sophistication, and the variety of textures can make a place appear more decent and elegant. For example, a two-dimensional artwork in a living room adds depth and brightness to the environment.
Now that we have summarized what wall decors are and their importance, let us delve into 10 of the most appealing wall decors.
11 Most Appealing Wall Decors
1)HOMCOM Hand-Painted Canvas Wall Art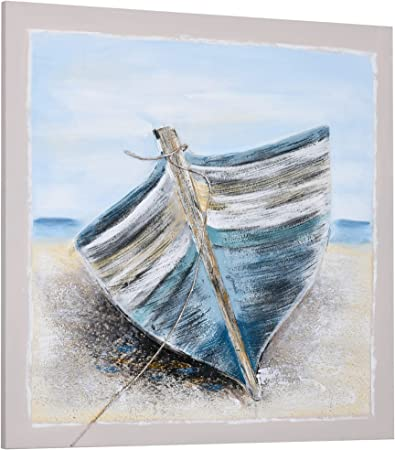 Product Details
The perfect addition to any home, the HOMCOM Hand-Painted Canvas Wall Art is hand-painted in the finest quality to bring a sense of happiness and joy to your living space. Made from high-quality canvas, the art is both durable and easy to maintain, making it a perfect choice for those who want to enhance the look and feel of their home. The vibrant design includes a range of colours to suit any style, and the classic nature of the scenes makes it a timeless addition to any space.
 Whether you're looking to add a splash of colour or a dose of style to your living space, the HOMCOM Hand-Painted Canvas Wall Art is a perfect choice.
Features
A handcrafted artwork suitable for living room, dining room, home office, or bedroom. 
The colour of water paint used to paint the boat will not fade over time. 
Specifications
It has a 90 cm × 90 cm dimensions and is 28 mm deep.
 Made out of pine wood and water paint (propylene). 
The item has a colour scheme of blue, beige, and white. 
Item label: L00-017V01. 
£444.95 At Direct GB Home and Garden

2) Wall Décor by Rosalind Wheeler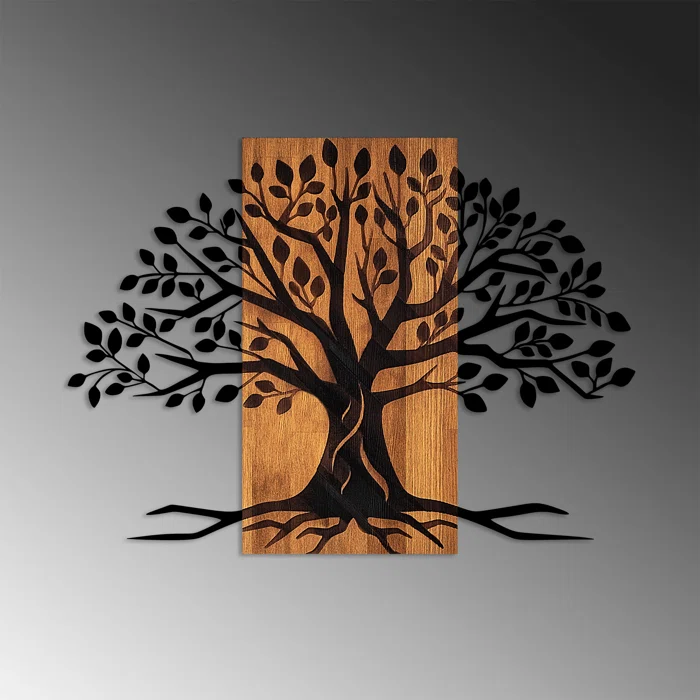 Product Details
Looking for a unique way to add personality and style to your outdoor or indoor space? Look no further than our Wall Décor by Rosalind Wheeler!
Our decorative wall items are perfect for giving your space a distinctive touch of design. Whether you're looking to add a little personality to your backyard or deck, or want to add a little pizazz to your living room, this product is sure to do the trick.
In addition to their decorative nature, our product also offers a number of practical benefits. For example, our hanging tie-backs ensure your furniture and lights stay safe and secure, while our hooks make it easy to hang your favorite items. Plus, our wall decor is made from high-quality materials, so it'll last for years to come.
Features
WOODEN
The product can be hung on the wall
Specifications
Overall 80cm H X 58cm W
Overall Product Weight 3.39kg
Overall Depth – Front to Back 3cm D
Commercial Warranty Length 1 Year
3) Wall Décor by World Menagerie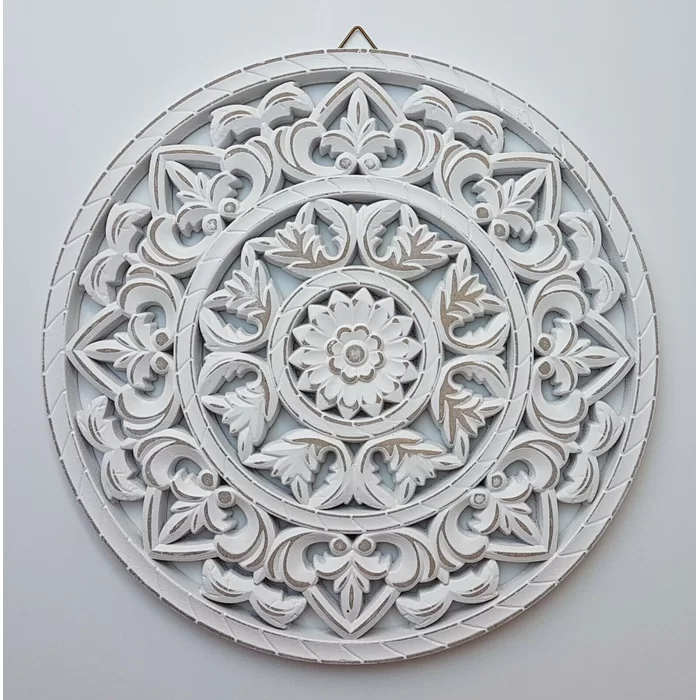 Product Details
This wall decor is an absolutely stunning piece of wall art that looks even better against a coloured wall. Gold hooks are included for wall mounting. The perfect complement to any interior, it will add a touch of luxury and style to your space.
Features
Subject Ornamental
Total Number of Pieces Included 1
No Lighting Included
Country of Origin is China
Specifications
Overall 2cm H X 45cm W
Overall Depth – Front to Back 45cm D
Overall Product Weight 1kg
4) Wall Décor by Langley Street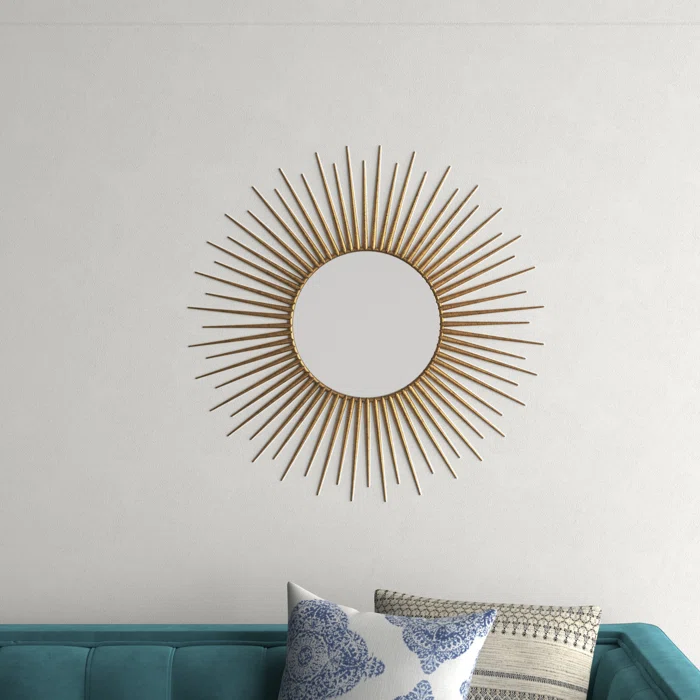 Product Details
This sun-inspired mirror is the perfect way to add some excitement to your interior. The golden sun immediately adds warmth to your space, whilst framing a mirror to reflect your beautiful self. This is a unique addition to any space that needs updating with joy and adventure.
Features
Color Gold
Primary Material Metal
Primary Material Details Iron
Total Number of Pieces Included 1
Country of Origin is China
Specifications
Overall 75cm H X 75cm W
Largest Dimension 75cm
Overall Product Weight 1.8kg
Overall Depth – Front to Back 4cm D
5) 3 Piece Wall Décor Set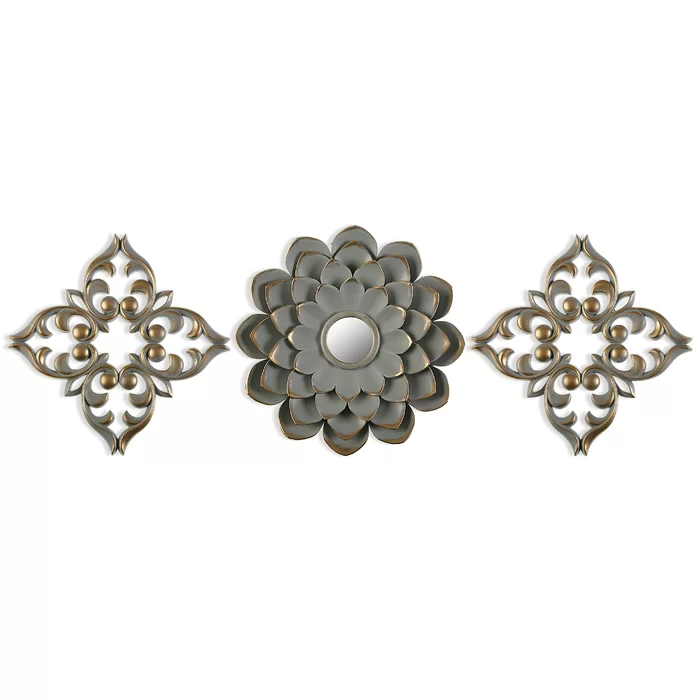 Product Details
Introducing the Astoria Grand 3 Piece Wall Décor Set. This set is perfect for adding some personality to your home. The vibrant colors are sure to catch your eye, and the stylish designs make a statement. Whether you're decorating a bedroom, living room, or office, this set is a great choice. The durable materials make it lasting, and the easy-to-assemble design means you can get it up in no time.
Features
Color Silver/Gold
Primary Material Resin/Plastic
Primary Material Details Plastic
No Lighting Included
Country of Origin China
Mirrored
Specifications
Overall 35cm H X 35cm W
Overall Depth – Front to Back 5cm D
Overall Product Weight 1kg
Largest Dimension 35cm
6) Metal Wall Decor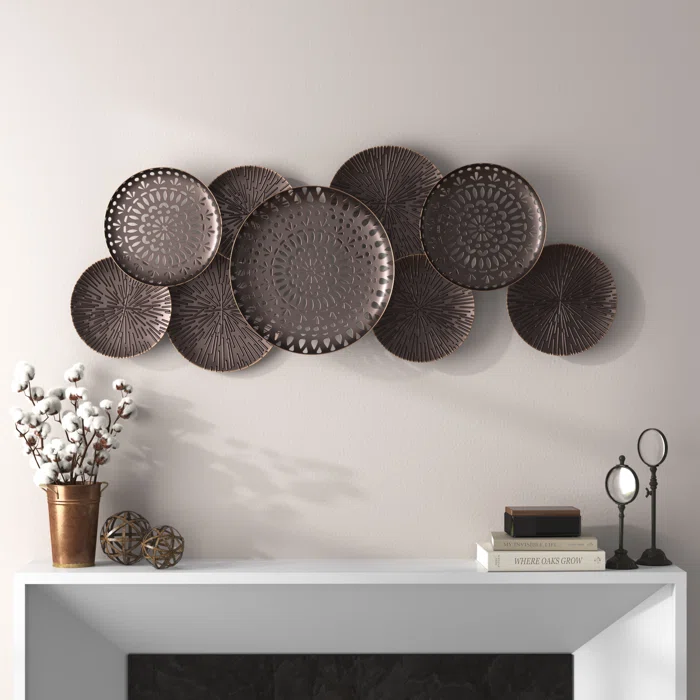 Product Details
This metal wall décor is perfect for any home with a bit of old-school style. The geometric shapes and elegant design give it a timeless appeal, adding an artistic accent to the home that will never go out of style. The décor has a distressed finish which adds to its vintage-inspired effect. The included wall mounting hardware allows for easy installation.
Features
The following three-dimensional metal wall plaque has a distressed finish.
Specifications
Color Bronze/Gold
Primary Material Metal
Primary Material Details Iron
No commercial Warranty
7) Art Series Big Love Metal Wall Décor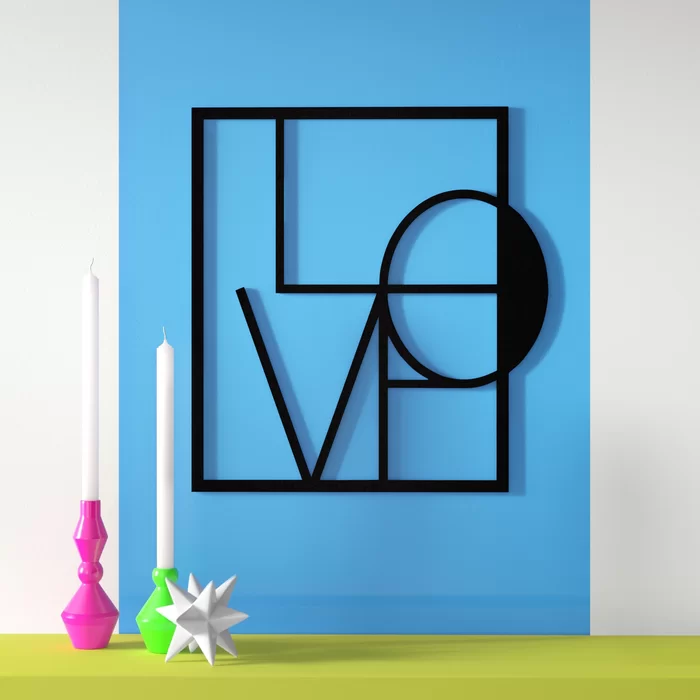 Product Details
This bold and ready-to-make statement wall décor piece is perfect for any room of the home. Made of metal, it has an abstract design and includes the word love. It is delivered ready to hang with the necessary hardware. With its striking color and design, this art series piece is sure to make a statement.
Features
Color Black
Primary Material Metal
Primary Material Details Stainless steel, static coated with paint
Subject Typography
Warranty Length 2 Years
Specifications
Overall 49 cm X 45cm W
Largest Dimension 49cm
Overall Product Weight 0.59kg
8) 2 Piece Angel Wall Décor Set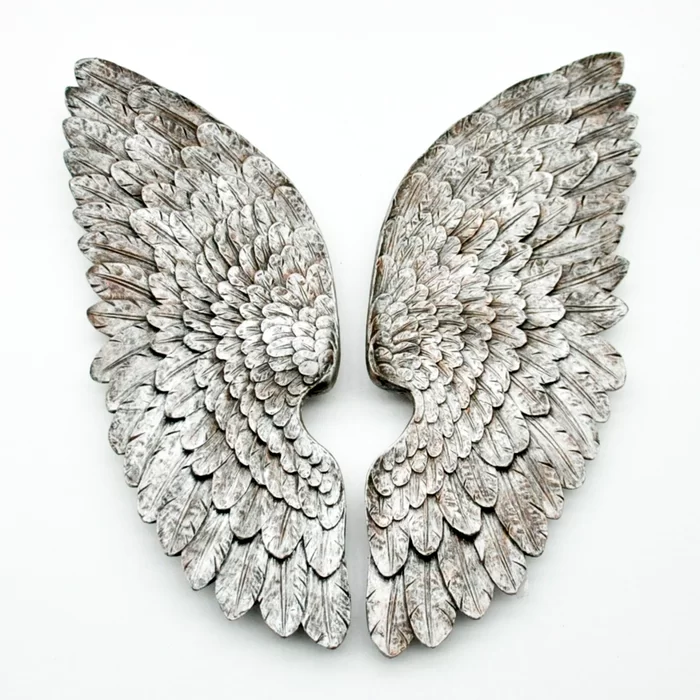 Product Details
Look no further than our 2 Piece Angel Wall Décor Set! This beautiful set includes two pieces of resin wall décor, both of which are hand finished and made from recycled content. The angel theme is perfect for adding a touch of charm to any room, and the weights and dimensions are perfect for hanging up on your wall.
Features
Hand finished
Recycled content
Angel theme
Specifications
No Commercial Warranty
Primary Material Resin/Plastic
Subject Fantasy
Total Number of Pieces Included 2
Wall Mounting Hardware Included
No Lighting Included
Country of Origin is China
9)Vintage World Map Wall Decor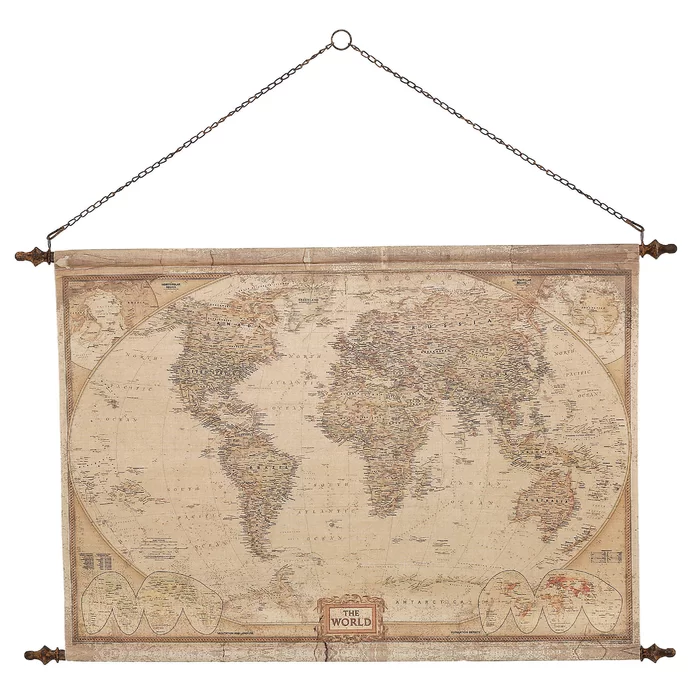 Product Details
Take a walk through the English countryside in this handsome Vintage World Map Wall Decor. Handcrafted in the UK by skilled artisans, this map is made of high-quality materials and features a detailed depiction of the world. The bright colors and intricate design are sure to enhance any space, while the sturdy wooden frame ensures years of use. This beautiful art piece is perfect for any home or office
Features
Hessian fabric with chain and wood detailing
A statement piece to act as a focal point 
Item is assembled
Specifications
Overall 119.38cm H X 129.5cm W
Largest Dimension 129.5cm
Overall Depth – Front to Back 3cm D
Overall Product Weight 1.5kg
10) Wall Décor by Bloomsbury Market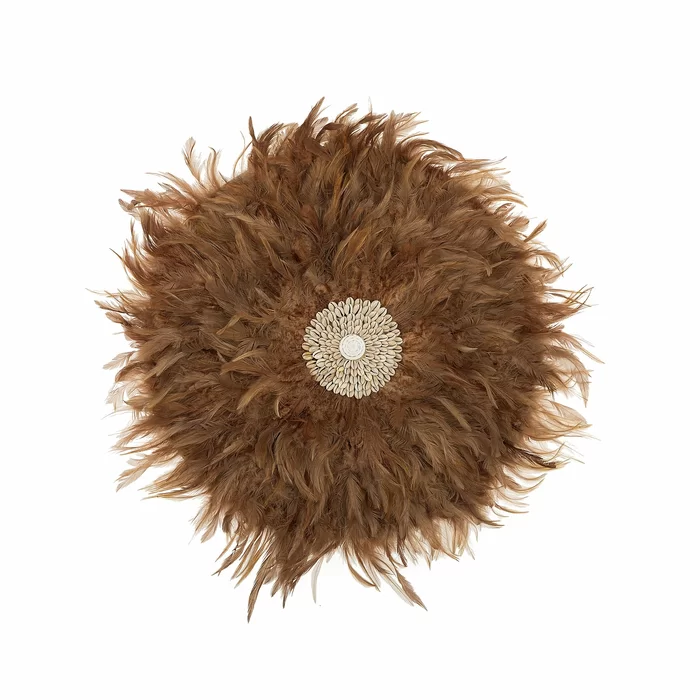 Product Details
This inspired by African hats wall decor is set to become one of the most distinctive accessories in your home. Meticulously crafted from genuine feathers, the piece brings a warm and light accent to any room. Its delicate yet classic design makes it ideal for interiors in glam, minimalist, and Scandinavian decor. Use it on its own or in a set and create a unique arrangement on your wall.
 Features
It looks beautiful on its own or grouped together in a set. 
The light, fluffy structure effortlessly blends in with a variety of decor styles. 
It is simple to mount, and comes with a string on the back.
Specifications
Primary Material Solid Wood
Subject Abstract and geometric
Total Number of Pieces Included 1
Handmade
Wall Mounting Hardware Included
Orientation Horizontal and Vertical
Overall Shape Circle
Warranty Length 2 Years
11) Wall Decor by KARE DESIGN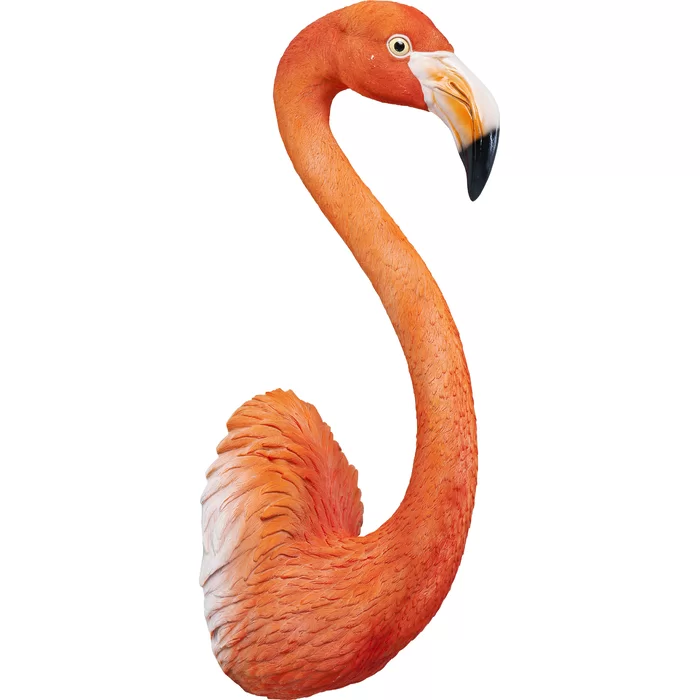 Product Details
Discover a unique and beautiful way to decorate your home with the See More Wall Décor by KARE Design. This stunning piece of wall art is sure to captivate you with its size and exotic charm. Perfect for natural-style interiors, this wall decoration requires little space but has a huge effect. Let your walls be enchanted by the See More Wall Décor, and bring a unique touch to your home.
Features
Be captivated by the grandeur and alluring appeal of it
Specifications
Color Orange
Primary Material Resin/Plastic
Handmade 
No Lighting Included