Furniture is a kind of household item, usually consisting of components made from wood, metal, plastic, marble, glass, fabrics, or materials related to these. Since the dawn of human existence, people have incorporated natural items, like tree stumps, rocks, and moss, into their furniture.
Archaeological studies have revealed that 30,000 years ago, humans began to craft furniture using wood, stone, and animal bones. It may be anything now, from a straightforward wooden chest to the most elaborate marquetry cabinet or even a gilded console table. It is being used all around the world, not just as a luxury but also out of need.
Types of Furniture
Here Spideroo provides you types of Furniture. Have a look down to know more.
Furniture for Living Room: 
The living room is the heart of your home. Thus, it is essential to create an area that is both practical and aesthetically pleasing, cosy and elegant, as it is the perfect place for people to come together. Coffee tables, side tables, sofas, seating benches, shelving units, and bookcases are some furniture items that can be used in a living room.
Furniture for Dining Room: 
The dining room is the area where significant occasions will happen, including Sunday meals, birthday celebrations, and Thanksgiving dinners. It is also the place where you can spend your private moments, like a romantic dinner for two, a family game night, or a morning cup of joe. Different shapes and sizes of dining tables, armchairs with wooden and fabric upholstery, bar stools and side chairs with wood and fabric upholstery are among the examples of furniture for the dining room.
Furniture for Bedrooms: 
Creating the bedroom of one's dreams has more scope than any other area in the house. You can shape it to cater to your individual wishes. To begin with, you should consider such crucial elements as wooden and padded beds, nightstands, mirrors, and dressers.
Furniture for Kitchen: 
Women are typically required to put in a significant amount of time in the kitchen preparing meals and taking care of other household tasks. Thus, their utmost comfort must be kept in mind when styling a kitchen. Items like cabinets, bistro chairs, and refrigerators are required in a kitchen. 
Types of material for furniture
ParticleBoard: 
Particleboard is a type of composite panel that is constructed by compressing small pieces of wood, such as sawdust and shavings, together with formaldehyde-based adhesives. This material was first developed in the United States for use as temporary furniture for refugees.
MDF:
MDF is one of the most non-harmful materials. It is created through a process which involves pressing finely-ground wood fibres together at very high temperatures and pressures.
Veneer:
A veneer is a thin wooden sheet, no thicker than three millimetres. Real wooden veneers are created by shaving a thin slice from the surface of a solid piece of wood. Craftspeople usually use veneer that is a mere 0.6 mm in thickness.
Lumber:
Furniture is typically manufactured from lumber, which is initially sawn into planks. After the bark is cleared away, the wood is ready to be used in factories and stores.
If you want to add some eye-catching pieces of furniture to give your home a more stylish look, Spideroo could be the answer to it. Let us delve into the 13 Most Stupendous Furniture Items that not only add a pinch of luxury to your home but can also make it look cosy. 
13 Most Stupendous Furniture Items
The world of furniture design is a vast and diverse one, filled with remarkable creations that showcase the ingenuity and creativity of designers. Among the countless options available, there are a select few that stand out for their sheer stupendousness. These 13 furniture items capture attention with their striking aesthetics, innovative concepts, and impeccable craftsmanship.
From intricately carved wooden chairs that seem to defy gravity to futuristic tables that blend seamlessly with technology, each piece represents a unique blend of artistry and functionality. Whether it's a sleek minimalist sofa or a whimsical bookshelf that doubles as a sculpture, these stupendous furniture items elevate the concept of interior design, making a bold statement and leaving a lasting impression on all who encounter them.
1) 66cm Bar Stool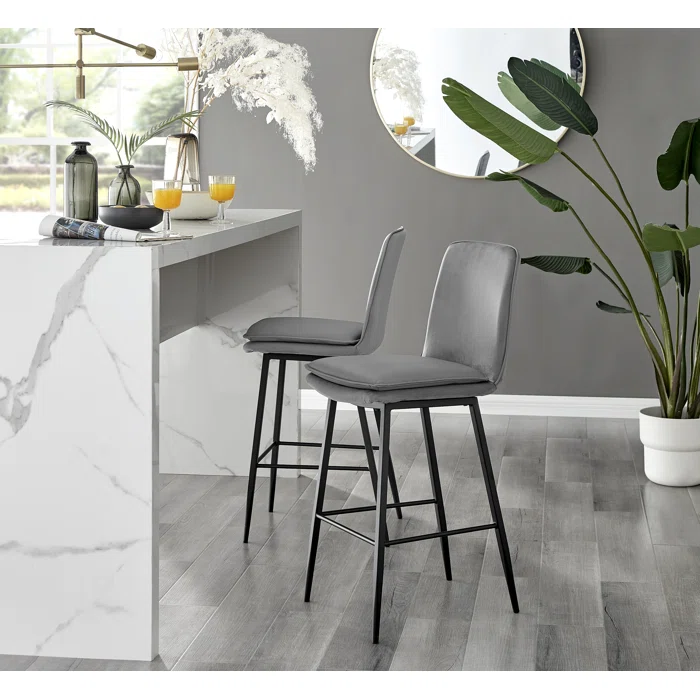 Product Details:
Introducing our 66cm Bar Stool – the perfect addition to your kitchen or dining area. This elegant and sleek bar stool is upholstered in luxurious faux leather and features a unique diamond pattern stitching that adds a touch of sophistication to your home decor. Its tall industrial-style legs provide a strong base, and the comfortable footrest ensures maximum comfort. You'll love the soft-touch and wipe-clean faux leather of this bar stool, which makes it ideal for family dining areas. With its ergonomic design and plush appearance, this barstool is sure to become an eye-catching piece in your home.
Features:
A style featuring simple and streamlined elements
Stylish, slender metal legs with a tapered finish for an industrial look.
Cushioned seating and an ergonomically-friendly layout.
Weights and Dimensions:
Weight: 11.2 kg
Overall: 99.5cm H
Seat Height – Floor to Seat: 66cm H
2) Amalfi square side table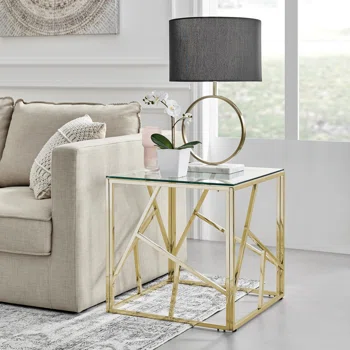 Product Details:
Bring a touch of luxury and glamour to your home with the Amalfi square side table. This beautiful piece is designed to make a bold statement, featuring an abstract pattern in the frame and a clear glass top. The gold chrome finish adds a stunning sheen, and it even helps to reflect natural light, brightening up darker or shadowed corners.
Crafted with stainless steel and 8mm thick tempered glass, the Amalfi is not only strong and durable but also lightweight and airy. It also offers plenty of surface space to keep all your living room essentials and accessories looking fabulous. Add the Amalfi to your home today and enjoy its beauty for many years to come.
Features:
Gleaming metallic gold and translucent glass.
Structure and construction that is built to last.
Ample area on the top.
Weights and Dimensions:
Overall: 55cm X 55cm X 55cm 
Overall Product Weight: 14kg
3) S Shape Side Lamp Bedside End Table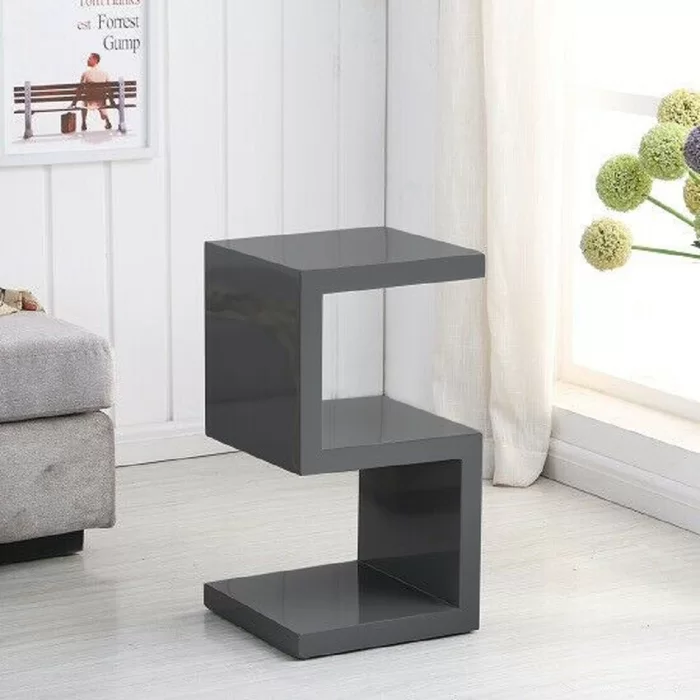 Product Details:
The S Shape Side Lamp Bedside End Table – is a perfect addition to any modern and stylish home! Crafted from high-grade MDF, this sleek piece of furniture offers sturdy construction and a unique S shape design for a modern look. The high gloss grey finish adds a chic and elegant touch to any room.
This versatile table can be used as a side table, a lamp table, or even a bedside table, making it the perfect multifunctional piece for any home. Its practical storage shelf offers a great solution to keep your home clutter-free, while the modern design will add a sophisticated touch to any room. Get the S Shape Side Lamp Bedside End Table today for an effortless way to upgrade your home!
Features:
Completely Gray Shiny Finish.
Arrives Fully Assembled.
It can be used as a supplemental piece of furniture for a variety of purposes, such as a side table, lamp stand, or bedside table.
Weights and Dimensions:
Overall: 59cm X 32cm X 32cm 
Overall Product Weight: 8kg
4) Frame the Coffee Table with Storage
Product Details:
The Frame Coffee Table with Storage! This stylish and modern coffee table offers an eye-catching design featuring a clear glass tabletop with a storage compartment. Constructed with a solid black powder-coated metal frame and white matt drawers that open and close with a soft close, this coffee table offers an amazing combination of style and functionality.
With a size of 120cm W x 40cm H x 60cm D, this table is perfect for any living space. Its maximum load capacity of 30kg makes it perfect for books, laptops, and other items. The Frame Coffee Table with Storage is shipped to you disassembled but includes easy-to-follow assembly instructions.
Features:
A table with an integrated area to store items.
The item will come unassembled and will include directions for how to assemble it.
The body of the item is designed to look like oak wood, and it contains two drawers that close softly.
Weights and Dimensions:
Overall: 40cm X 120cm X 60cm 
Overall Product Weight: 46kg
5) Zipcode Design Eyelet Room Darkening Curtain
Product Details:
Experience the beauty of natural light filtering through your windows with Ahad Room Darkening Slot Top Curtain Pair! This set of two window curtain panels offers a semi-darkening feature that allows natural light to enter while still providing a barrier against the sun and outside elements. Perfect for any room in your home, from the dining room and the living room to the bedroom and kitchen, and even dorm rooms and garden doors, this curtain pair is sure to elevate any decor.
This curtain set is perfect for all seasons as it is crafted from lightweight material with a soft touch. As a manufacturer of printed home textiles, Ahad follows current trends and brings you the latest home fashion with this curtain pair. Environmentally friendly, this curtain pair is sure to provide a safe and healthy atmosphere for your family.
Features:
When washing delicate items, set the cycle to cold and dry them on a low setting. This way, you can do your laundry in a discreet manner while still looking fashionable.
Vivid colours and sharp images can be produced utilizing the most advanced digital printing technology available that lasts for an extended period of time.
Weights and Dimensions:
Size per Panel: 75cm X 225cm H
Single Panel Weight: 0.4kg
Total Area: 3.37m²
6) Darcey Jumbo Cord Corner Sofa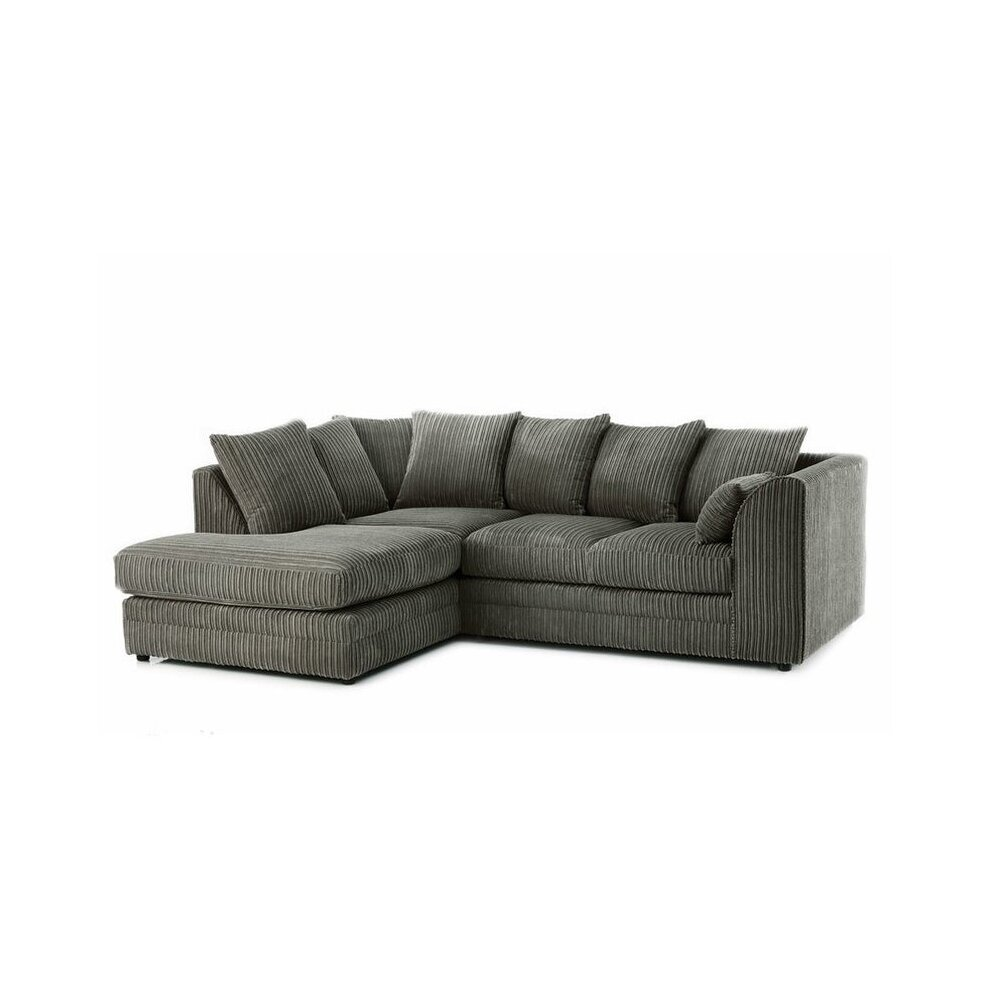 Product Details:
Welcome the Darcey Jumbo Cord Corner Sofa into your home for a touch of comfort and luxury. This medium-corner sofa features hard-wearing and soft corduroy upholstery that gives it an inviting texture. It can seat up to four people and has a robust wooden construction with a plush foam filling. Scatter cushions provide extra comfort, while web suspension ensures the sofa has the firm support it needs. Upgrade your living space with the stylish and practical Darcey Jumbo Cord Corner Sofa.
Features:
Grey in colour. 
Corner-shaped sofa. 
Assembly is required. 
Weights and Dimensions:
Width: 212cm x 164cm
Height: 78cm
Depth: 87cm
Weight: 60 kg 
7) Hykkon ii 3 Seater Sofa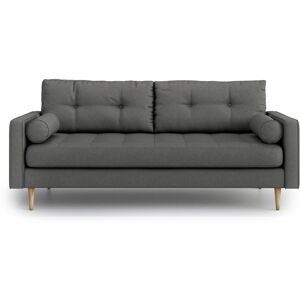 Product Details:
Unlock modern design and luxurious comfort with the Kai 3 Seater Upholstered Sofa. This contemporary piece is crafted with a faux velvet fabric and a spacious seating area, making it perfect for family movie nights or entertaining guests. The eye-catching design is further enhanced with button detailing and dark wood feet – giving it an elegant finish.
Features:
Crafted from faux velvet fabric. 
Supported by dark wooden legs. 
Weights and Dimensions:
Overall: 96cm X 191cm X 90cm 
Overall Product Weight: 55kg
8) VidaXL Kitchen Cabinet High Gloss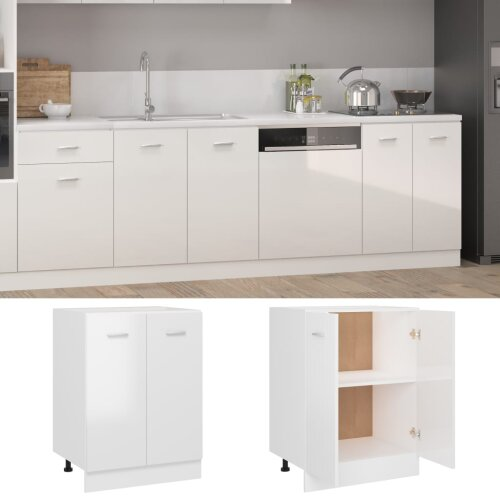 Product Details:
Add a stylish and functional storage solution to your kitchen with the vidaXL Kitchen Cabinet High Gloss. This modern and slim design cabinet is perfect for any kitchen, helping to organize and optimize your space.
It has two shelves and two doors to keep items clean, offering plenty of room to store bowls, plates, kitchen appliances, and more. With its durable and reliable construction, you can be sure that your belongings will stay safe and secure. Enjoy a clutter-free and organized kitchen with the vidaXL Kitchen Cabinet High Gloss!
Features:
Crafted from chipboard.
The wall attachment device included must be utilized in order to avert the product from toppling over.
Assembly is required. 
Weights and Dimensions:
Overall dimensions: 60 x 46 x 81.5 cm
Weight: 20 kg 
9) Kleankin Bathroom Floor Storage Cabinet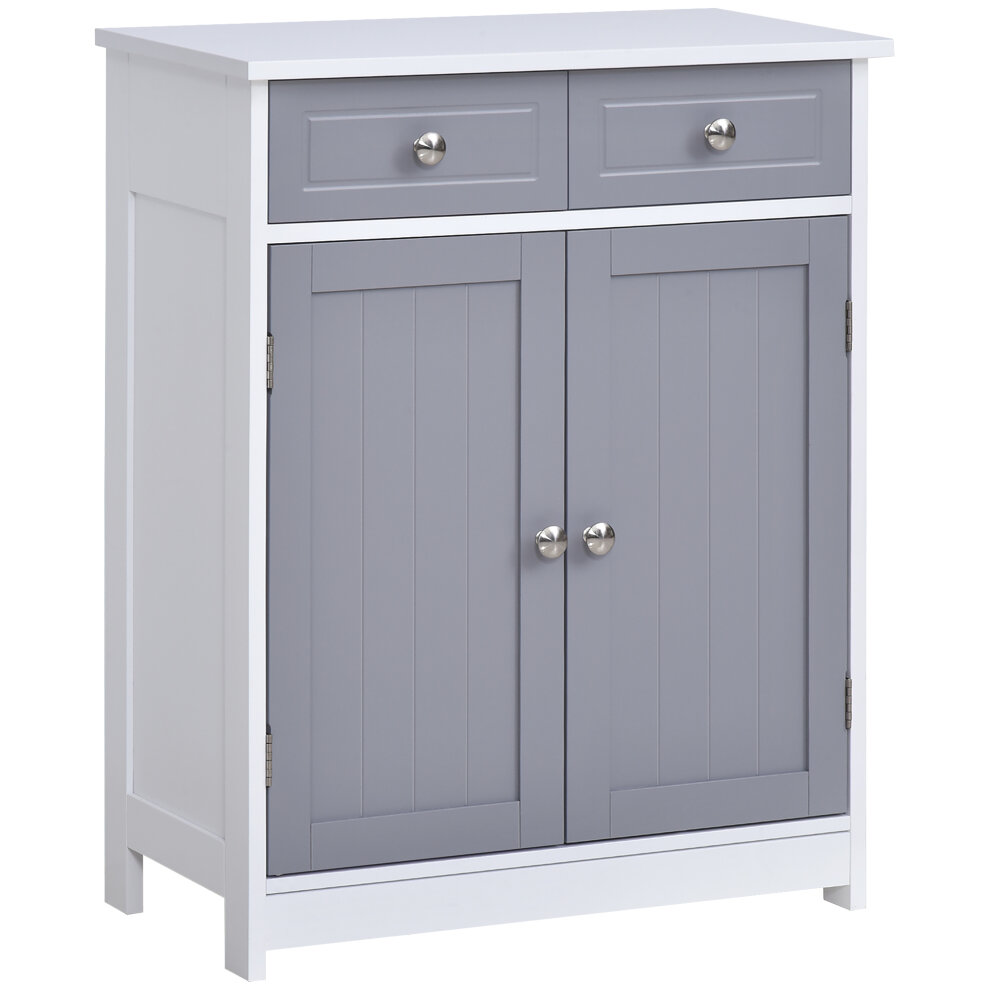 Product Details:
The kleankin Bathroom Floor Storage Cabinet provides an elegant and traditional look to any home. Its sleek and polished handles stand out against the beautifully carved indents of the cabinet, adding a touch of class. Inside, you'll find two drawers and a bottom cabinet with a shelf, providing plenty of space to store all of your bathroom essentials.
This cabinet is made from durable, strong materials, and the back can be attached to the wall for added anti-tipping safety, making it a great option for households with children and pets. Bring some extra storage to your home in the most beautiful way with kleankin's Bathroom Floor Storage Cabinet.
Features:
The structure is firmly constructed with medium-density fiberboard, making it strong and long-lasting.
The paint is waterproof and impervious to humidity. 
Features one cupboard and two drawers, giving you lots of storage space
Weights and Dimensions:
Overall Dimension: 75H x 60L x 30Wcm
Weight capacity: Whole: 24kg. Tabletop: 10kg. Shelf: 5kg. Drawer: 2kg
10) Comfy Living Talsi Wood Bed Frame
Product Details:
Transform your bedroom into a luxurious and comfortable space with the Kang Wooden Low-End Double Bed. Crafted from a mixture of solid wood and carbon-coloured paint, this beautiful bed features gorgeous antiqued wax solid pine tops and convex-style contemporary handles.
The deep hues of the carbon paint add a classic and stylish touch to any bedroom, while the use of wood drawer interiors and real dovetail drawers provide strength and stability. Enjoy the perfect balance of style and practicality with the Kang Wooden Low-End Double Bed.
Features:
A stunning combination of solid wood and luxurious carbon-coloured paint.
The tops of the furniture pieces are made from aged pine wax, and the handles have a modern and curved look.
Weights and Dimensions:
Height: 100cm
Width: 147.6cm
Depth: 201.5cm
11) Upholstered Accent Chair
Product Details:
The Upholstered Accent Chair – is your ideal choice for adding a splash of colour and style to your room. This contemporary chair is designed with a solid hardwood frame and upholstered in luxurious velvet, available in 7 stunning colours. With its long, slender metal legs and included cushion, this chair will add a hint of colour and class to any room. Whether you're looking for extra seating or just want to spruce up your home, the Upholstered Accent Chair is the perfect solution.
Features:
Stylish petal chair,
Comes with a cushion that has a picture on it.
Weights and Dimensions:
Overall: 74cm X 72cm X 68cm 
Overall Product Weight: 12kg
12) Bella Crushed Velvet Corner Sofa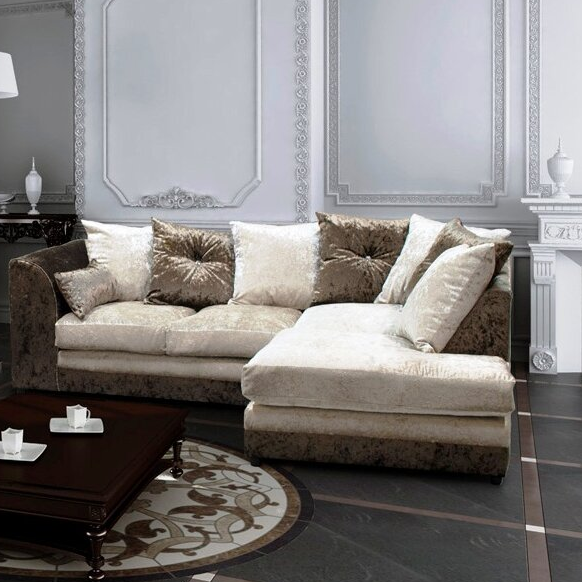 Product Details:
The Bella Crushed Velvet Corner Sofa – adds timeless style and luxury to your living room. This beautiful sofa is made with foam for comfortable support and comes with seating cushions and scatter back cushions for ultimate comfort. Its classic crushed velvet design and crystal accents give it a timeless look that is sure to impress. For quality and price, this corner unit is the perfect choice to upgrade your living space.
Features:
This couch has generously sized throw pillows that provide exceptional comfort.
Corner-shaped sofa crafted out of velvet. 
Weights and Dimensions:
Width: 212cm x 164cm
Height: 78cm
Depth: 87cm
Weight: 60 kg
13) Abrihome Dining Table Set With 2 Benches
Product Details: 
Bring the cozy charm of the countryside into your home with the Derwent Dining Table. This beautiful farmhouse-inspired table is handcrafted with attention to detail and made to order in our UK workshop. The tabletop and cross-beam are detailed with rustic accents, giving the Derwent Table a genuinely authentic look.
The Derwent Dining Table pairs perfectly with our Derwent Dining Benches, which can slide underneath the table when not in use, freeing up valuable floor space in your home. Complete the look with the Derwent Sideboard for a complete farmhouse-inspired dining space.
Features:
The best kiln-dried, unsorted pine is specifically selected to construct these Derwent farmhouse dining tables. 
No assembly is required. 
Delivered in five wax colours. 
Wax care packs are delivered along with the product to maintain the freshness of their furniture and shelves. These packs can be used regularly every few months to ensure your furniture and shelves continue to look like they were just bought.
Weights and Dimensions:
Width: 90cm
Height: 76cm
Length: 150cm or 180cm
Look over our other guides on Storage and Bedroom Furniture to make your access to all the categories of furniture effortless.