As the temperature drops, the arrival of winter prompts us to reevaluate our wardrobe and seek out essential outerwear that will not only keep us warm but also make a stylish statement. A carefully selected jacket becomes more than just a means of insulation; it becomes a fashion-forward expression of our personal style.
In this blog, Spideroo invites you to join us on a journey through the top six jackets that are crucial for braving the cold with confidence and elevating your winter style to new heights.
Winter is a season that demands practicality without compromising on style, and choosing the right jackets can significantly impact your comfort and fashion choices. Whether you're venturing into the great outdoors or simply navigating your daily activities, these jackets will shield you from the chilly elements and make you feel fabulous while doing so.
So, prepare to immerse yourself in the world of winter fashion as we unveil the top six jackets that are a must-have in your cold-weather arsenal. From classic and timeless designs to trendy and contemporary options, we'll guide you through the essential outerwear pieces that will not only keep you warm but also make a fashion statement that reflects your unique personality. Get ready to upgrade your winter wardrobe and embrace the colder months with style, warmth, and confidence.
Get hold of your stunning jackets, some of which are listed below:
Adidas 2022-2023 Real Madrid Anthem Jacket
Adidas 2022-2023 Arsenal Anthem Jacket
Jamaica Concept Football Track Jacket (Green)
Borussia Dortmund Casuals Hoody Jacket (Black)
Adidas Presentation Jacket
Adidas 2022-2023 Man utd Anthem Jacket
Adidas 2022-2023 Real Madrid Anthem Jacket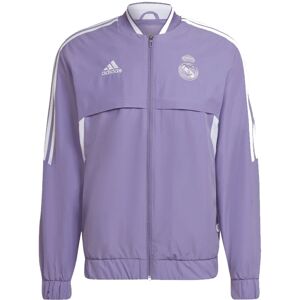 The following Jacket is from addidas, a British manufacturer of sportswear and athletic clothing which has now made its access in 50 more countries. They aim to utilize advanced engineering with exceptional and technical fabrics to create items of the highest quality, satisfying all those who demand the very best.
 This addidas jacket manifests your stand for Newcastle United wherever you wear it. It has classic and chic motifs with a navy body and gold description. It is an absolute addition to Newcastle's fan wardrobe. At St James Park, players wear this Jacket in the lead-up to games.
Adidas 2022-2023 Arsenal Anthem Jacket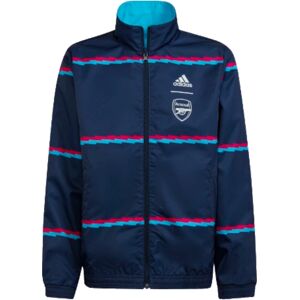 This Jacket has its share in the Adidas 2022-2023 training range, manufactured by Adidas, one of the world's top 5 luxury brands.
This Arsenal Pre-Match Jacket for the 20/21 season has been advanced with Aeroready technology, which soaks up moisture and dries steadily to keep you comfortable and fresh. The ribbed cuffs fasten your garment in place, while the team crest allows you to exhibit your support for The Gunners with pride and the Adidas branding finishes up the look. At the same time, the zip pockets let you store essentials securely, and the ventilated sleeves let you stay cool.
Jamaica Concept Football Track Jacket (Green)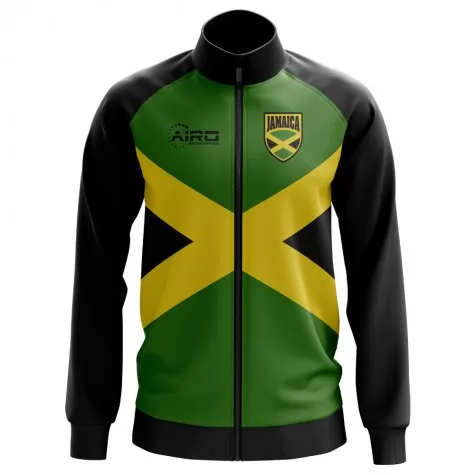 The following track jacket, manufactured by Airo Sportswear, shows your support for the Jamaica national team with this exclusive, premium piece. 
The unique motifs of this Jacket reflect your stand for the Jamaica National Team. This hooded top is manufactured in limited quantities, perfect for this Team's loyal fans. It is made from a blend of 50 percent polyester and 50 percent cotton, making it ideal for outwear. 
Concept Kits aren't official; supporter design jerseys are not linked with the Team or worn by the players.
It is suitable for adults and obtainable in all sizes. You can also complete your look with the black trouser available at UkSoccerShop.
Borussia Dortmund Casuals Hoody Jacket (Black)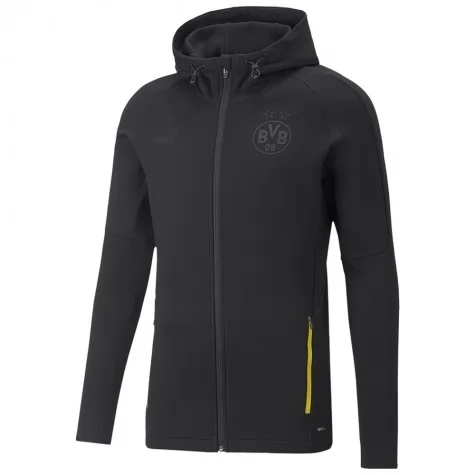 Wearing this Jacket from Puma lets you run around the pitch like a Borussia Dortmund player. It has a hood, full zip closure through the front, and a slim fit to fit your bodice correctly, making you feel comfortable. The Team's crest on the chest is embroidered to demonstrate that you are a Borussia Dortmund supporter wherever you go.
It also has Puma's No.1 logo on the chest, showings how much you value quality and standard. The black colour of this Jacket makes you look stunning and bold, and adding it to your wardrobe will surely not make you regret your decision.
This Jacket features performance technology that lets moisture decamp from your body while exercising to keep you sweat-free. Get hold of this fine piece via UkSoccerShop.
Adidas Presentation Jacket
This Official Adidas Presentation Jacket from Adidas is fabricated from 100 percent recycled polyester, a moisture-absorbing AERO READY fabric that gives your skin a soft and light feel. This fabric saves resources and decreases emissions which makes it environmentally friendly. 
It features Spain woven crest, full zip closure through the front with a high ribbed stand-up collar, and ribbed inserts at the hem and cuffs. In your bag or on your back, this football presentation jacket is light enough to make you hardly make you feel that you have something on.
This Adidas Presentation Jacket is accessible in all sizes from small to XXL.
Adidas 2022-2023 Man utd Anthem Jacket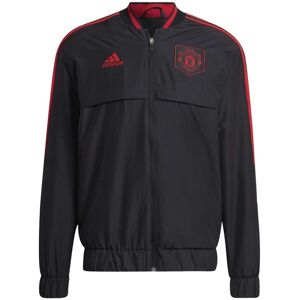 Whether home or away, you can stand with your favorite Team with this Jacket. Outlined to be seen on football's most prominent platform, this reversible Jacket from Adidas exhibits Argentina's home hues on the outside and the away jersey graphic on the inside.
This unique piece has one of its sides made from 100 percent recycled nylon plain weave with front zip pockets, while the other is made from 100 percent polyester twill with simple front pockets. It is designed with Argentina woven crest on the chest, elastic cuffs, and hem for an adaptable fit.
The Light Blue hue of this Jacket makes you look decent yet classy.