A freezer can be a great investment if you prepare many meals or hunt your own meat frequently. 
Freeing up space to keep your frozen foods organized is one of the primary advantages of a dedicated freezer. You can find a freezer that will fit into your present kitchen or easily put one in your garage or basement. 
Get an understanding of the freezers to pick out the one you seek.
Things to look for when buying a Freezer
Before you purchase a freezer, you should be familiar with all of these terms and concepts. A basic understanding of these things will simplify locating the right freezer.
Capacity
The capacity of a freezer will be listed in cubic feet of space. It is crucial to check the actual capacity when comparing two models of freezers from different manufacturers. The dimensions of the freezer vary somewhat among brands, so one size may not be the same as another.
It is common for shoppers to ask, "How big of a freezer to buy." You must first consider your food storage plans to find the correct answer. You and your family should get 1.5 cubic feet of freezer space, but it will depend on the sorts of frozen goods you purchase.
It is feasible to get the largest freezer you can afford, but try to determine your optimal freezer size based on how much food you realistically anticipate storing. In these cases, a large freezer that stays mostly vacant will need to work harder to keep cool and is a needless waste of energy.
 Try to ensure your freezer has the optimal amount of space for the amount of food you plan to store.
The Energy Guide Label
The EER, also known as the Energy Guide label, provides you with two key pieces of information. The amount of energy consumed on a scale ranging from similar models to the one you are seeking and also an estimate of the yearly operating cost based on the national average cost of electricity.
Consequences of Defrosting
Freezers with dedicated frost protection are particularly vulnerable to frost buildup. Although frost buildup on freezer walls or cooling coils may appear to keep your food items colder, the fact is that it reduces the efficiency of the freezer and makes it operate less effectively.
 To prevent this, you need to periodically unfreeze your freezer. To unfreeze your freezer, you will need to manually operate some freezers, or it will automatically do so.
Frost-Free Freezers
A self-defrosting freezer (sometimes known as a frost-free freezer) prevents the accumulation of frost or ice by automatically warming up when necessary. In addition, a special internal heating element gets activated regularly, melting any excess frost that has formed. However, this also makes foods more susceptible to freezer burn in a self-defrosting freezer. 
It does not inhibit frost buildup, so foods are more vulnerable to freezer burn. Vacuum sealing, wrapping food items as tightly as possible using freezer paper or plastic wrap, or storing them frozen as soon as possible will all help to avoid freezer burn.
Manual Defrost Freezers
Since there is no built-in mechanism in manual defrost freezers to prevent ice buildup or to melt it once it has accumulated, ice buildup occurs in these freezers and has to be manually removed. All chest freezers will have to be defrosted manually, which can be messy and time-consuming. 
Because manual defrost freezers are usually more energy efficient, this is one of the advantages.
Defrost Drain
All the freezer's water flows through this drain when it melts. It is less notorious to defrost the freezer using a defrost drain since you do not have to collect all the water using a sponge and bucket.
Partitions, Shelves, and Drawers in a Freezer
When shopping for a new freezer, think about how you will store the type of things you will buy. 
The number of shelves, baskets, and drawers you include can ensure you have a place to store everything. If you plan on storing large items, ensure they are also removable.
Garage-Ready Freezers
When placing the refrigerator in your garage or someplace outside of a climate-controlled area, ensure the freezer is garage-ready. These appliances are designed to operate in temperatures much colder than typical houses. Even a regular freezer may not freeze its contents if placed in an exceptionally hot garage.
Check out our paragon garage freezers of 2023 that we have assembled for your ease!
Ideal Temperature
All food storage should be kept at 0° Fahrenheit (-18° Celsius). Consistent freezer temperatures are critical to preventing energy expenditure increases. Freezing food at -10° Fahrenheit (-23° Celsius) is suggested. If a food's freezing temperature is 32°F, it must be stored at 0°F to slow down deterioration.
Door Fasteners
An integrated door fastener is an amazing way to ensure your freezer's door stays shut and a great theft deterrent for those who store their freezers in a garage.
Exceptional to features
Keeping in view the features of freezers that you need to look for. Below we have summarized a complete guide for you on one of the categories of freezers: Upright Freezers.
Upright Freezers
An upright freezer is a great choice if you're looking for more vertical storage.
These freezers are usually longer than they are wide, with a depth usually between 9 and 15 inches. Upright models are the most common type of freezer. They are great for storing larger items or items that consume a lot of space. Whichever type of freezer you choose, make sure you know how to properly maintain it to ensure it lasts a long time.
Upright freezers are worth your purchase
While upright freezers can work best in smaller spaces, they are also much less expensive than the upright models. Upright freezers are larger, so measure your space before purchasing one.
 When you have an upright freezer in your home, keep it out of direct sunlight. Not only can a chest freezer cause condensation issues if it is too close to a window, but it can also give off too much heat and cause issues with odors.
 If you want your freezer organized by how it's being stored, you can arrange our freezer by placing items on racks in the most efficient way possible to store them.
Organization 
When organizing an upright freezer, you have a few different options. You can either organize it by type of food or by how it's being stored. If you want to keep your freezer neat and disposed of, you'll want to organize it by type of food. 
You can keep all of your meats organized in one area and all of your vegetables in another.
Temperature Alarm and Door
An upright freezer's door should be fully closed to stop a catastrophic accident from happening. If the door doesn't fully seal or the temperature rises for any other reason, an audible alarm is usually provided to alert you.
Now you've caught up on all the features of the upright freezer. Let us give you some of the best freezers in the market so that you can make an even greater choice.
Cookology Upright Fridge & Freezer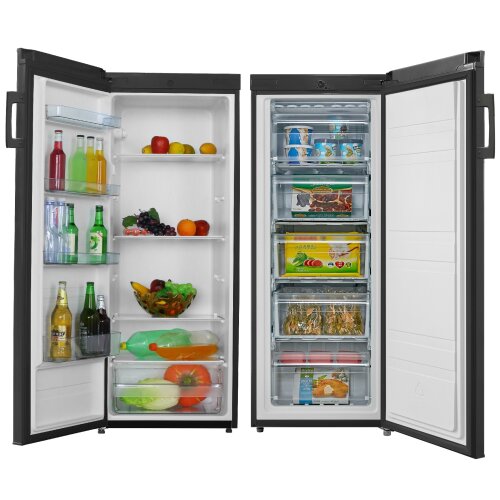 Product Details
The Cookology Upright Fridge & Freezer Pack in Black, 55 x 142cm tall, Side-by-Side, is the perfect addition to any kitchen! This versatile appliance combines a large fridge and freezer into one stylish, compact package, saving you space and leaving more room in your kitchen. 
This freezer/fridge combo is perfect for anyone who wants to maximize their fridge/freezer space and have the convenience of both appliances in one. With its stylish design and multiple storage options, the Cookology Upright Freezer & Fridge Pack in Black, 55 x 142cm tall, Side-by-Side, is sure to be a great addition to any kitchen.
Features
The Cookology Upright Freezer features a sleek, black finish and includes two adjustable shelves and two bins, perfect for storing all your food essentials.
 It also has an adjustable thermostat, adjustable shelves, and an ice maker, giving you multiple options for storing frozen and fresh food.
Beko FFEP3791W Frost Free Upright Freezer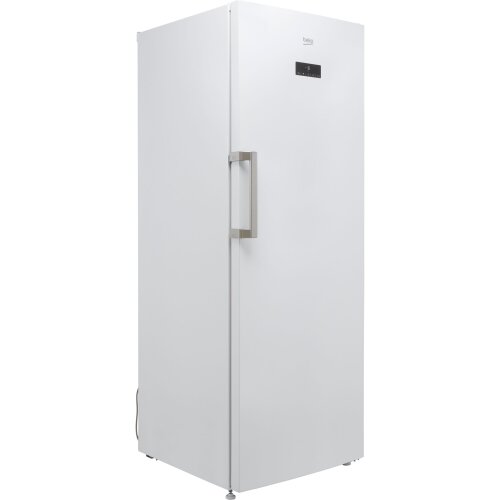 Product Details
Retain your food fresh and your kitchen organized with the Beko FFEP3791W Frost Free Upright Freezer – White. This sleek and stylish freezer offers plenty of storage space, with four shelves and a spacious salad crisper drawer. The four adjustable shelves and two removable door balconies offer maximum flexibility, letting you easily store larger items. The reversible door lets you easily access your Beko freezer, no matter which side of the kitchen it's on. So if you're seeking a reliable and efficient upright freezer, look no further than the Beko FFEP3791W.
Features
The Beko FFEP3791W features an automatic defrost function, helping to ensure that your food stays fresher for longer. 
With its low energy consumption, this upright freezer will also help you to save money on your energy bills.
Undercounter Upright Freezer
Product Details
The Undercounter Upright Freezer with Adjustable Temperature Controls is a versatile and efficient appliance designed to meet your freezing needs while maximizing space utilization in your kitchen or commercial setting. This compact freezer offers convenience and flexibility with its adjustable temperature controls, allowing you to store a variety of frozen items at the ideal temperature.
Features
Compact Design: With its undercounter configuration, this upright freezer is specifically designed to fit seamlessly beneath a countertop, making it an excellent choice for small kitchens, offices, or commercial establishments with limited space.

Adjustable Temperature Controls: The freezer features user-friendly temperature controls that allow you to customize the internal temperature according to your preferences. This flexibility enables you to store a wide range of frozen items, including ice cream, meats, vegetables, and more.
IceKing Portable 38 cu. ft. Upright Freezer
Product Details
The IceKing Portable 38 cu. ft. Upright Freezer is a reliable and convenient solution for all your freezing needs. With its large capacity and portability, this freezer is designed to provide ample storage space while offering the flexibility to be used in various locations.
Features
Spacious Capacity: The IceKing Portable Upright Freezer offers an impressive 38 cu. ft. of storage space, providing plenty of room to store a wide range of frozen items. Whether you need to freeze large quantities of food for a party or stock up on groceries, this freezer has you covered.

Portable Design: Designed with mobility in mind, this freezer features sturdy wheels and handles, allowing you to effortlessly move it around as needed. Whether you want to relocate it within your home or take it on the go for outdoor events or camping trips, this portable freezer offers flexibility and convenience.

Temperature Control: The freezer is equipped with adjustable temperature controls, giving you the ability to set and maintain the ideal freezing temperature for your specific needs. This ensures that your frozen goods stay fresh and properly preserved.
Cookology CTFZ160WH Tall Freestanding Upright Freezer
Product Details
The Cookology CTFZ160WH Tall Freestanding Upright Freezer in White is a sleek and practical appliance that offers ample freezing capacity to meet your storage needs. With its tall design and metal back, this freezer combines functionality and durability, making it an excellent addition to any kitchen.
Features
Spacious Storage: The Cookology CTFZ160WH Tall Freestanding Upright Freezer provides generous storage space, allowing you to store a wide variety of frozen items. Whether you need to freeze large quantities of food or have a diverse range of frozen goods, this freezer has the capacity to accommodate your needs.

Freestanding Design: This upright freezer is designed to stand on its own, offering flexibility in terms of placement. It can be easily positioned in any suitable location in your kitchen, garage, or utility room, providing convenient access to your frozen items.
Samsung RZ32M7125BN Frost Free Upright Freezer
Product Details
The Samsung RZ32M7125BN Frost Free Upright Freezer in Black is a stylish and high-performing appliance that offers advanced features to meet your freezing and storage requirements. With its sleek black design and innovative technology, this freezer combines aesthetics and functionality, making it a standout choice for any modern kitchen.
Features
Frost-Free Technology: Say goodbye to the hassle of manual defrosting. The Samsung RZ32M7125BN upright freezer features advanced frost-free technology that prevents ice build-up, ensuring a maintenance-free freezer experience. This saves you time and effort while keeping your frozen items in optimal condition.

Spacious Capacity: With its generous storage capacity, this freezer provides ample space to store a wide range of frozen goods. From frozen meals and desserts to bulk purchases and seasonal produce, you can easily organize and access your items for convenient meal planning.

Energy Efficiency: The Samsung RZ32M7125BN upright freezer is designed with energy efficiency in mind. It utilizes advanced insulation and cooling technology to maintain stable temperatures while minimizing energy consumption. This not only helps reduce your carbon footprint but also saves you money on your utility bills.
Haier H2F-255W A Frost Free Upright Freezer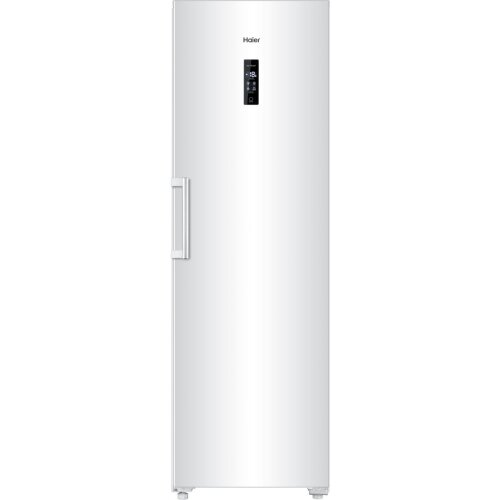 Product Details
The Haier H2F-255WSAA Frost Free Upright Freezer is attractive and efficient. It's energy-efficient, stylish, and will aid you in keeping your food fresh. This freezer features an all-white exterior and a sleek, modern motif that will look great in any kitchen. The shelves are adjustable, so you can organize your food exactly how you want. The freezer also has a reversible door, so you can choose which direction it opens. Overall, this great freezer is sure to meet all your needs. 
So, the Haier H2F-255WSAA Frost Free Upright Freezer is a great choice if you're seeking a freezer that does it all.
Features
It is incredibly efficient, with a powerful compressor that can keep food fresh for a long time.
It has a spacious interior, with enough space to store all your frozen food items.
Cookology CTFZ160BK Tall Freestanding Upright Freezer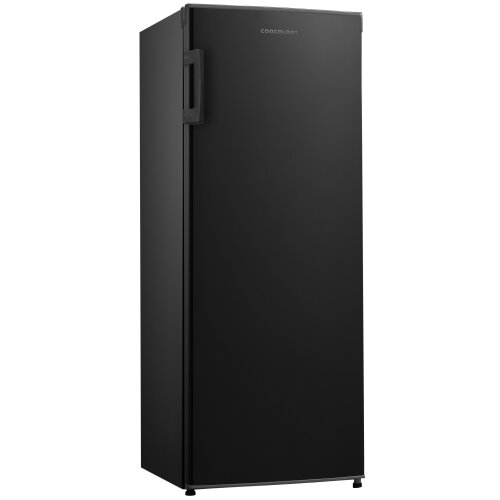 Product Details
If you're looking for an efficient upright freezer, the Cookology CTFZ160BK Tall Freestanding Upright Freezer in Black is perfect. It measures 55x142cm, making it great for larger families or households. The sleek black design will fit any kitchen, while the metal back provides a sturdy and secure foundation. With a total capacity of 160 liters, this upright freezer offers plenty of space for all your frozen food needs.
 The Cookology CTFZ160BK Tall Freestanding Upright Freezer in Black is the right choice for a reliable and efficient freezer for their home.
Features
With an A+ energy rating, it's both economical and eco-friendly. 
It also features an adjustable thermostat, reversible doors, and an interior light, making it easy to use and navigate.