How you design your home displays some of your personality and offers you plenty of room to express yourself. You could craft a tranquil area with straightforward colour combinations, a snug and charming home with warm shades, or a region with vivid and captivating entertainment with striking designs. From selecting colours to putting throw cushions on the couch, you can produce an environment that will encourage you and your family members to prosper and leave a lasting impression.
Besides enabling us to express ourselves, home decor can have tangible impacts on us. For instance, someone who worked where a pleasant-smelling air freshener was present reported higher levels of self-confidence when setting ambitious objectives. At the same time, individuals in an odourless environment were more inclined to use effective strategies.
Influence of Home Decor on the Human Mind
The connection between the human body and mind is undeniable and can be impacted by our environment. A tranquil, attractive home can increase one's overall feeling of contentment. The hues of your walls and furniture can also affect your mental health. Research shows that colours influence a person's mood, behaviour, and cognitive ability. A survey was conducted in a university building painted in different colours to capture the students' feelings. For example, the shade of green provided a sense of serenity. The cafeteria, decorated with warmer colours such as yellow and red, gave a welcoming vibe, making the mealtime more pleasant. 
These modifications can also be beneficial in setting up an atmosphere that can make you more open to virtual mental health services. You can prepare for success and enhance your physical and psychological well-being by making fundamental changes to your home surroundings.
Importance of Home Decor
One's wardrobe provides insight into character; likewise, the house's decorations can indicate its occupants' lifestyle. People often decorate a space to make it feel like it belongs to them, which helps to make any location more individualized, and people can put their stamp on it.
 Everyone has unique motivations for sprucing up their homes, but there is a shared notion: houses should be embellished. Its impact is evident in various households; here are some reasons why home decor is essential.
To make a place their own
Identity is integral to living, and home is where this is most evident. When we select to embellish our homes, we can pick any tone, design, and features we like. 
We can utilize these components in whatever way suits our tastes. The budget-friendly choices we make as homeowners when decorating make it easy to customize our space and express what narrative we want to illustrate.
2. Serenity
When you become a member of a living space, you have the liberty to personalize it to your preference and make it more comfortable. The serenity that is brought to your home begins from within.
Folks tend to decorate because they usually have the freedom to pick and choose. They will organize the area to make it easier for them to go about their daily activities.
For instance, after spending a holiday in Manali, you may realize that your home is one of your favourite places. Home is a significant part of your life, changing your mood from one emotion to another, and many people agree that a home is a special place that one can leave but is the best place to return to.
3. Special Occasions
People enjoy adding a festive feel to their dwellings to celebrate special occasions. From anniversaries to birthdays and weddings to get-togethers, these moments demand that the house be adorned with decorations that match the event's tone. Furthermore, many of these events have a specific theme, making it easier to choose the decorations that will make it look its best.
4: Hospitality
People are friendly beings and often host gatherings. If you have people coming over, you should ensure your place looks inviting. Even though it may not be obvious, people will talk about the condition of your home when you welcome them. A pleasing interior will make them feel welcome and show that you put effort into making the gathering enjoyable.
To signify the commencement of a new voyage:
Many other individuals adorn their homes when they embark on a fresh journey. For example, a newlywed pair may embellish their living space for a wedding ceremony and a fresh start.
It could be the commencement of retirement, divorce, or the birth of a baby. Decorating your residence will enhance your interior and greet the atmosphere of the new voyage you are about to start.
A home is where one does all the things. From childhood to adulthood, we all grow up to learn new things and experience life, but home plays a major role in the journey.
Now that we are familiar with the importance of home decor let us delve into 12 lavish home decor items:
1. Bloomsbury Market Orchids Flower Pot 
Product Description: 
Transform your home into a stunning oasis of luxury with this set of elegant Magic Orchid Artificial Flowers. These beautiful white ceramic orchid pots are perfect for repotting your artificial orchids and can be used indoors or outdoors.
Perfect for a kitchen table, bedroom shelf, sunroom, or patio, these artificial orchids will bring a beautiful splash of colour and a touch of class to any room in your home. Bring your favourite orchid home today and enjoy its beauty for years to come!
 Features:
Crafted with intricate details and precision.
Material of High-Grade Quality.
No assembly is required.
 Specifications:
Flower Type – Artificial
Flower Species – Orchid
Flower Material – Plastic
Flower Colour – White
Container Colour – White
Container Material – Ceramic
Product Care – Wipe with a dry cloth
2. Canora Soft Fluffy Shaggy Area Rugs
Product Description: 
Experience ultimate luxury with our Soft Fluffy Area Rug. Made of high-quality polyester microfiber velvet; this shag plush rug will add a touch of solace and warmth to any chamber in your home. It's soft feel and fine texture are the same as a nightgown, so you can rest assured that it is non-toxic, non-allergenic, and safe for everyone.
Plus, there's no shedding, no fading, and no knotting, so you can enjoy it for years. With its diverse style and long durability, this rug is sure to be a welcome addition to your home.
 Features:
Exceptionally plush and extremely cosy.
Contemporary interior decoration for residential buildings.
Easy to clean with a damp cloth. 
Specifications:
Construction – Machine Made
Rug Type – Shag
Material Composition – Polyester Microfiber
Backing Material Composition – PVC
Primary Colour – Purple
Product Care – Machine washable; Shake to remove dust.
3. Large Letter Home Wall Décor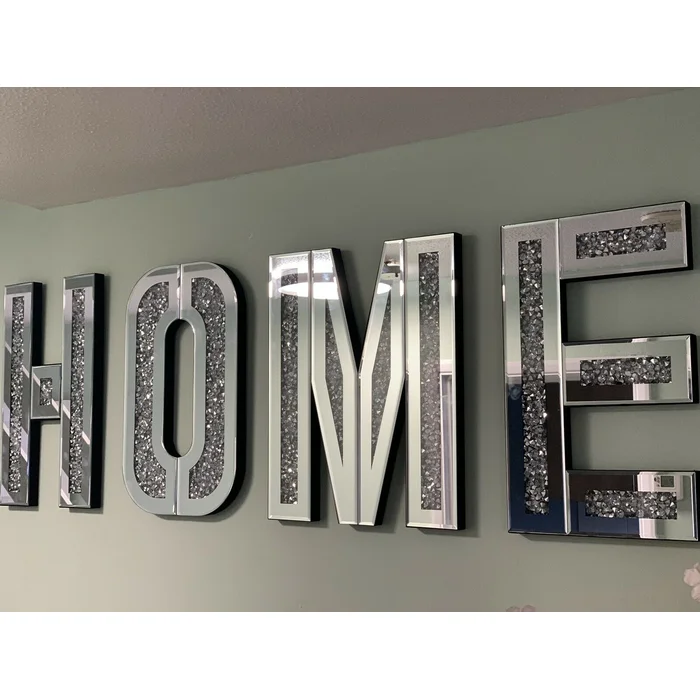 Product Description: 
Bring the sparkle and glamour of a diamond into your home with this beautiful Large Letter Home Wall Décor. This stunning wall plaque is made with mirrored crushed crystal diamond inlays, giving it a unique and eye-catching shine that will bring a special touch to any home decor.
Perfect for gifting this Valentine's Day, the Large Letter Home Wall Décor is sure to make your special someone feel extra special. Add a pinch of glamour to your home and make any room sparkle with this exquisite wall décor.
Features:
Spruce up your home with love! Treat yourself to a present, and grab another one to give to someone else. Whether you're looking for something to put in the bedroom, bathroom, kitchen, or living room, you'll find it here!
 These decorations, crafted with the finest crushed diamonds, will bring a glimmer of joy to your abode and make it a cheerful place.
Specifications
Colour – Silver
Primary Material – Crystal
Handmade
Wall Mounting Hardware Included
No Lighting Included 
Mirrored
Overall Shape: Novelty
4. Brambly Cottage Floral Square Scatter Cushion Cover
Product Description: 
Bring a touch of the outdoors inside with this beautiful Alariz Geometric Square Scatter Cushion Cover. This cushion features a delicate pattern evoking greenery and nature, making it a perfect addition to any room.
With a selection of colours to choose from, the cushion can be tossed on the sofa or used as a finishing touch to bed linen – adding a contemporary touch to your home decor. The Alariz Geometric Square Scatter Cushion Cover is sure to bring a fresh, natural feeling to any room!
Features: 
This is a popular selection for those who appreciate stylish designs and superior quality. There are plain stripes, timeless hues, quirky plaids, and eye-catching motifs, all for a reasonable cost.
Specifications: 
Cushion Type – Scatter Cushion
No Cushion Pad Included
Cover Material Composition – 100% Cotton
Colour – Grey/Yellow
Pillow Shape – Square
Number of Pieces Included – 1
Closure Type – Zip
Product Care – Machine wash
5. Wall Mirror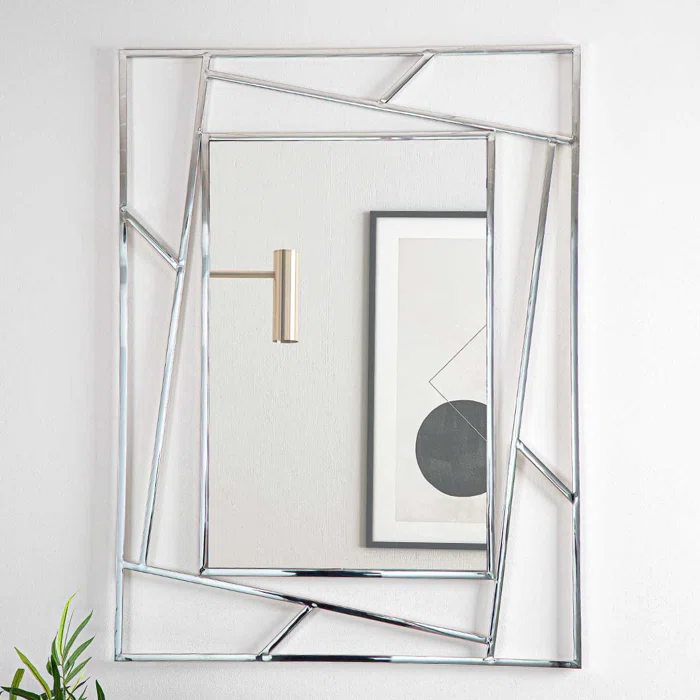 Product Description: 
Introducing the perfect statement piece for your home – the Wall Mirror! This stunning piece of modern decor will instantly add a touch of elegance to any hallway, living room, or other space. This large rectangular wall mirror, crafted with a metal floating stainless steel frame in a chrome finish, will instantly become the centrepiece of any room.
Installation is also a breeze, with wall hooks assembled and ready to go at the back. With its sleek, modern look and easy installation, the Wall Mirror is sure to be a stunning addition to your home.
Features: 
Reflective material of superior quality.
A Frame Constructed with Long-Lasting Chrome Metal.
A Mirror with a Contemporary Vintage Look.
Specifications: 
Mirror Type – Accent
Shape – Rectangle
Orientation – Vertical
Frame Material – Stainless steel
No Lighting Included
Hardware Included – Hooks; Hanging Bracket
6. Window Voile Curtains
Product Description: 
Introducing our Window Voile Curtains – the perfect classic touch for any room in your home! Our rod pocket voile curtains come with a pocket at the top, making installation and sliding a breeze. From bedrooms to living rooms and even kitchens, these curtains bring a unique sense of style to your space.
Thanks to the lightweight, soft weave and unique design, these sheer curtains are the perfect addition to any home. The cross pattern brings a natural touch to your décor, and the available colours will perfectly complement any colour scheme. With Window Voile Curtains, you can easily add a timeless classic touch to any room.
Features: 
Effortless to set up and move around.
Linen voile is made exclusively from polyester fabric.
Specifications: 
Colour – Transparent
Shape – Cross
Window shade type, curtain – Voile curtain
Indoor/outdoor – Inside
Residential use 
7. Metal Wall Art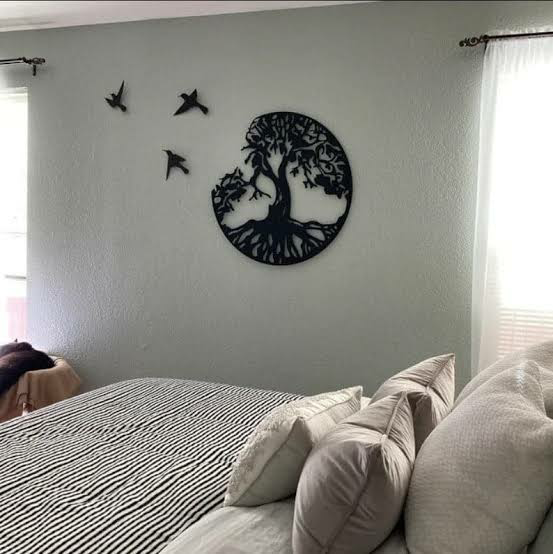 Product Description: 
Introducing Metal Wall Art – a stunning masterpiece perfect for adding modern elegance to any décor. The iconic Tree of Life design, hand-crafted with the utmost attention to detail, is brought to life with three delicately sculpted birds flying up from the tree. This exquisite piece is sure to bring a unique beauty to any room and make the perfect gift for Birthdays, New Year, Christmas, Valentine's Day, and Mother's Day. Give your home a timeless look with the Metal Wall Art and enjoy the beauty of this classic design.
Features:
Constructed out of iron metal.
Handmade 
This fashionable wall decoration does not need to be put together and can be effortlessly hung up.
Specifications: 
Size – 30 X 30 cm
Material – Metal
Warranty – 1 Year 
8. Ivy Bronx Cabinet Accent Chest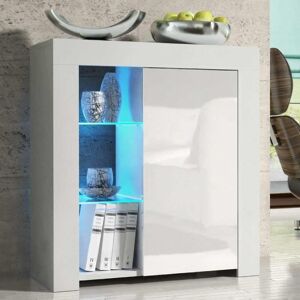 Product Description: 
Introducing the Cazorla sand-coloured solid spruce Cabinet Accent Chest! This unique and elegant piece of furniture is sure to be the star of the room, with its exotic style and engraved wooden front.
Perfect for storing everyday household items such as crockery, cutlery or textiles, this practical accent chest is a great addition to any dining room. With its two compartments and lower drawer, you can be sure to find room for all your items. Adorn your home with the Cazorla sand-coloured solid spruce Cabinet Accent Chest!
Features:
Doors that have a magnetic locking system.
The furniture arrives already put together, with the exception of the legs that need to be attached.
Because of natural elements, no product has the same grain colour, texture, or wood knots.
Specifications: 
Product Type – Cabinet
Overall Shape – Rectangular
Top Color – Brown
Base Color – Brown
Base Material – Solid + Manufactured Wood
Top Material – Solid Wood
Hardware Material – Iron
Weight Capacity – 50kg
9. Zuiver Side Table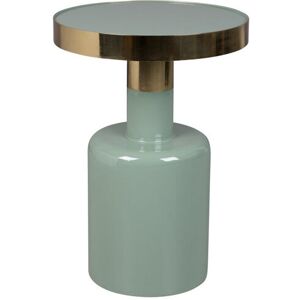 Product Description: 
The Ching Side Table, This stunning piece of furniture, is sure to bring a touch of style and sophistication to any room. The top of the table is inlaid with beautiful bone and features a modern black and white Boho pattern. The strong and durable Sheesham wood legs provide the perfect support to make this a truly eye-catching piece.
Not only is the Ching Side Table a beautiful and stylish addition to any home, but it is also incredibly functional. Any item placed on this side table will be given a trend-led and sophisticated touch. So why not add a touch of luxury and adventure to your home with the Ching Side Table today?
Features:
No assembly is required.
The Ching Side Table originated in India and was constructed out of Sheesham.  
This sumptuous side table can be the perfect addition to your bedroom, living room or your office. 
Specifications: 
Top Colour – Black
Base Colour – Black
No Drawers Included
Weight Capacity – 10kg
Top Material – Solid Wood
Base Material – Solid Wood
10. Decor Metal Sculpture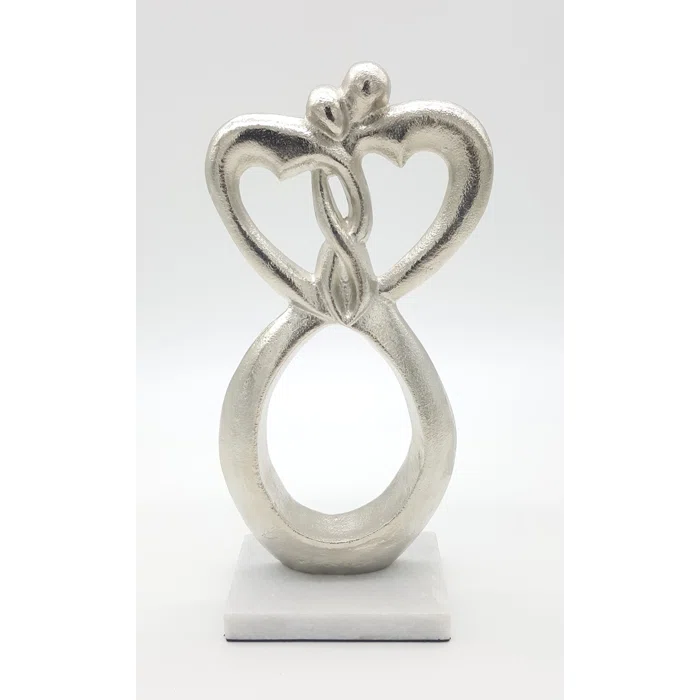 Product Description: 
Add a beautiful and unique touch to your home decor with this Decor Metal Sculpture. Hand-crafted from Aluminium with a marble base, this gorgeous piece is perfect for creating a grander effect in the atmosphere of your rooms.
The kissing couple design is sure to leave a long-term impression on everyone who sees it, filling your home with love and joy. With this Decor Metal Sculpture, you can add a touch of sophistication and artistry to your home.
Features:
Unconventional, Avant-Garde, Innovative, Vintage style
Perfect for embellishing an entranceway, home, business, or restaurant.
Requires minimal effort to maintain.
Specifications: 
Product Type – Sculpture
Colour – Silver
Primary Material – Metal (Aluminum) 
Handmade
Lead-Free
Overall Product Weight – 1.25kg
11. Fink Losone Metal Table Vase 
Product Description: 
The Shetler Metal Table Vase -This chic bud iron table vase is designed to bring added beauty and sophistication to your home decor, whether that's in the living room, bedroom, dining room, or office.
With its subtle yet eye-catching design, the Shetler Metal Table Vase is sure to be a beautiful addition to your home. Add this versatile accessory to your space for a unique and stylish look that will last for years to come!
Features:
Design inspired by flowers.
This oval-shaped table vase is an exemplary inclusion to style your abode.  
Specifications: 
Product Type – Table Vase
Shape – Cylinder
Primary Material – Metal
Watertight
Residential use
Indoor use only
12. Feather Table Lamp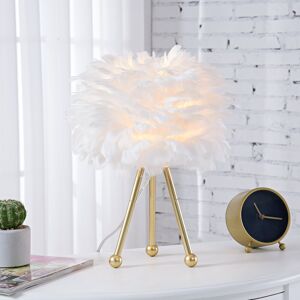 Product Description: 
Make your dreamy and romantic lighting come true with the Feather Table Lamp! This stylish lamp features feather shades and a soft lighting effect that creates a warm and comfortable atmosphere. Perfect for a girl's room, baby room, office, bars, cafes, restaurants, bedrooms, study rooms, and hotels.
The Feather Table Lamp is a wonderful choice for both classical and modern-style decorations. With a regular medium base E27, the Feather Table Lamp works with LED/CFL/ Fluorescent light bulbs and comes with an easy-to-use, insulated plastic switch. Add a touch of dreamy luxury to any room with the Feather Table Lamp!
Features:
The texture is plush, constructed from fine-quality natural feathers with no dyes, and each feather is securely affixed so that it will not drop off.
This feather-shaped table lamp is perfect for a desk, dining table, or even a vanity. It emits a gentle glow, making it a great present for someone special.
Specifications: 
Height – 35 cm 
Width – 20 cm
Material – plastic + feather + metal 
Colour – Silver 
Weight – 0.6 kg 
Get to know each of the categories in detail through our guides on wall decor, cushion covers, Floormats and curtains.